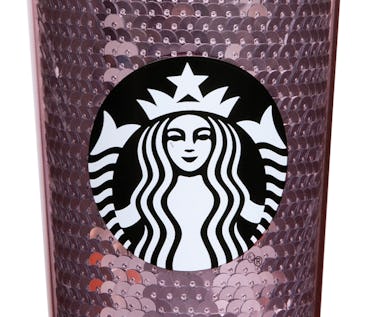 Rose Gold Starbucks Cups Are Perfect Gifts For Your BFF & Here's How Much They Cost
Starbucks
Starbucks is in a generous mood this holiday season, and once you catch a glimpse of its new merch, you'll have no choice but to channel your inner Kris Kringle (and snatch a few items for yourself, too). "How much do Starbucks' rose gold cups cost," you ask? They're the perfect price point for your annual gift exchange with friends.
The "rose gold" cups (which are actually called the "Pink Cold Cups," according to Starbucks) are a trio of items that'll make The Plastics wish Wednesday came every day. There's a bit of pizzazz with each offering that'll put a spring in your step and make your morning cup of coffee sparkle... literally. If you're going to have to head to work early, you might as well carry some cute coffee accessories while you're en route to the office.
Without doubt, Starbucks' new items will make you pink with envy.
The Pink Stainless Cold Cup, which is $19.95, is the ideal gift for your BFF who can't sit still and needs a latte on hand at all times. This item is available at Starbucks locations inside grocery stores, airports, hotels, and retailers such as Target. There are plenty of opportunities to snag a few for yourself and your cube buddy. Cheers to that.
For the person in your group who really likes to make a statement, try purchasing the Pink Sequins Plastic Cold Cup ($18.95). This cup — and its contents — are vibrant enough to add some liveliness to a cold winter morning. Even better is the fact that when summer hits, the color will still be in style. Sounds like you need to stock up, doesn't it? Like the Pink Stainless Cold Cup, this is also available throughout retailers, grocery stores, and airports.
The final cup of the bunch proves that not all that glitters is gold... it's pink. The Pink Glitter Cold Cup ($14.95) adds just the right amount of sparkle to your morning pick-me-up. Who wouldn't want one of these bad boys? While supplies last, the final cup in the new trio is offered throughout retailers, grocery stores, and airports.
When you stop in your neighborhood Starbucks for your Peppermint Mocha or a new Toasted White Chocolate Mocha (yum) you not only have the option to make a pretty in pink purchase, but you can also participate in Starbucks' 2017 holiday theme of giving back. The company decided to put a spin on its classic red holiday cups and change things up a bit. This is the first time Starbucks has unveiled a color-in holiday cup for its customers, and there's definitely a sweet reason for the change.
"This year's cup is intentionally designed to encourage our customers to add their own color and illustrations," Leanne Fremar, executive creative director for Starbucks, said in a statement. "We love the idea of everyone making this year's cup their own."
Commenting on the cup's meaning, she added, "I liked the idea of hands as the centering point, a symbol of connection, love and giving joy, whether it's wrapping presents or decorating a tree, writing cards, or enjoying a mug of cocoa."
There you have it coffee lovers: the season of giving. You might as well start with everyone's favorite drink. Not only are the Pink Cold Cups a lovely way to say "Happy Holidays," but Starbucks' other gift options — water bottles, coffee blends, gift cards — make for the perfect stocking stuffer.
'Tis the season to be jolly and Starbucks is one way to make this time of year even sweeter. Enjoy.
Check out the entire Gen Why series and other videos on Facebook and the Bustle app across Apple TV, Roku, and Amazon Fire TV.