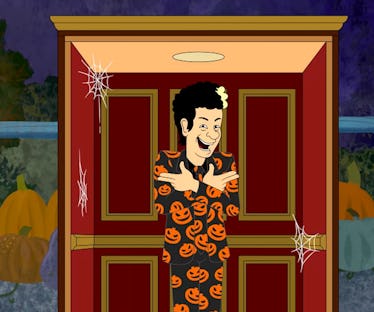 'SNL' Aired Tom Hanks' David S. Pumpkins Special & Twitter Is At War Over It
Every October, fan-favorite characters make an appearance at Halloween parties across the country. Joining the ranks of classics like Jack Skellington, Frankenstein, and Michael Myers is none other than David S. Pumpkins, the viral sensation who made his late-night debut in 2016. This year, however, Tom Hanks' David S. Pumpkins Special on SNL left viewers somewhat at odds over the animated skit.
Though the Oct. 28 episode opened with a live-action reunion of Hanks' Pumpkins and Mikey Day and Bobby Moynihan's skeletons, the show quickly morphed into a cartoon. During the sketch, a little boy and his sister made their way to a pumpkin patch where an elevator rose from the ground and opened up to reveal David S. Pumpkins himself, who was wearing his ever-so-fashionable black suit donned with orange pumpkins. There was singing and a very unclear backstory about "the Halloween Santa," and all appeared hunky-dory.
But Raincoat Man showed up to stir the pot. The Halloween villain was out to steal candy from trick-or-treaters, so Pumpkins and his young crew had to return the sweets where they belonged... all before making their way back to the pumpkin patch before the magical time of 10:34 p.m. To add to the spooky excitement, Game of Thrones' Peter Dinklage narrated the show, so it was a pretty big deal in terms of Halloween specials.
Have a quick look at David S. Pumpkin's animated appearance.
Naturally, in the age of the internet, people took to Twitter to air their grievances with the special.
Some loved David S. Pumpkins in cartoon form... mainly because Peter Dinklage narrated his episode.
There were some positive tweets about the Oct. 28 show.
One tweet pretty much captured the essence of David S. Pumpkins.
Though the animated show wasn't quite what fans were hoping for, that didn't stop some from paying homage to Tom Hanks' popular role.
Even though Pumpkins in cartoon form didn't go over too well, the 2016 version of the character (IRL) garnered more than 10 million views on YouTube.
If you're not terribly inclined to mimic Pumpkins' look this Halloween after the Oct. 28 fiasco, there are plenty of other options to choose from. Since All Hallow's Eve is right around the corner and the clock is ticking, you need to get your outfit together if you haven't done so already. These easy DIY Halloween costumes on a budget — Regina George and her colorful bra, Wednesday Addams and her goth look — all make the planning process a lot easier. You probably have most of the items required, so why not give it a whirl?
Now that your style for the scariest evening of the year is all set, it's time to enjoy the festivities... and fingers crossed you won't have to deal with the likes of Raincoat Man. There are plenty of Halloween party games to keep guests entertained between bites of sweets, such as a murder mystery-themed game or a pumpkin carving contest (and if you're out of pumpkins there are substitutes that work just as well). These activities will keep you and your guests going well past 10:34 p.m.
If you ask Pumpkins and Raincoat Man, no Halloween get-together is complete without a few treats, so you're going to want to make sure you have the whole menu on lockdown before your best buds show up. There are super creepy and (most importantly) ways to give your party the ultimate spooky treatment with minimal effort. Try the spiderweb bean dip or white chocolate Jack Skellington Oreo pops for a scary aesthetic with a quick turnaround. Naturally, no party is complete without a cocktail, so sip on these odes to pumpkins when your friends show up in their delightfully frightening outfits.
David S. Pumpkins might not have been the hit fans were expecting, but you still have time to rock your Halloween festivities.
Check out the entire Gen Why series and other videos on Facebook and the Bustle app across Apple TV, Roku, and Amazon Fire TV.