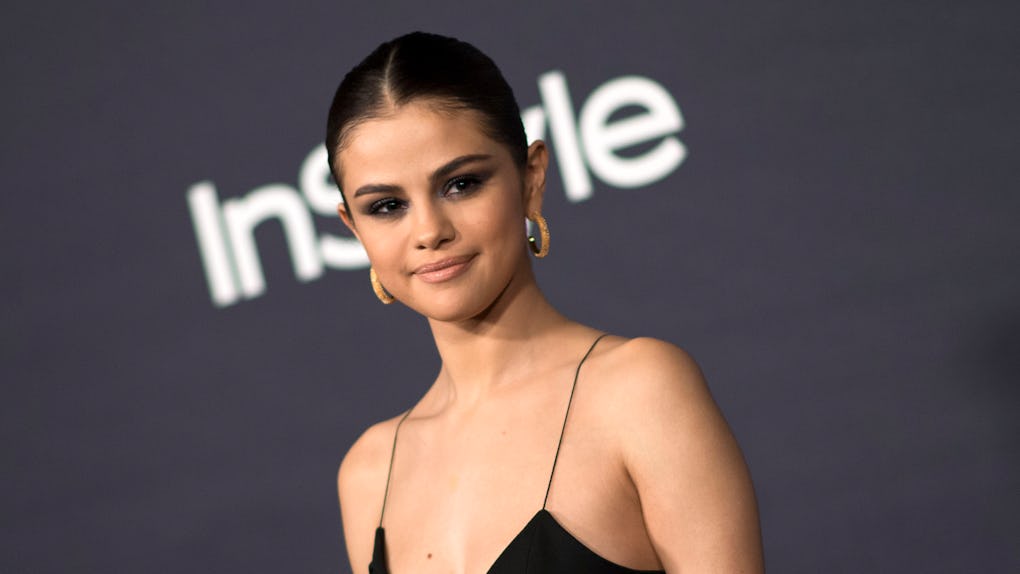 VALERIE MACON/AFP/Getty Images
Tweets About Selena Gomez's AMA Performance Prove She's Back & Better Than Ever
Raise your hand if Selena Gomez's "Wolves" is your new favorite song. I'M RAISING MY HAND. When the singer announced she was releasing a new single, I'm not sure what I was exactly expecting, but it's so much better than I could've hoped. The super sultry lyrics mixed with a touch of Marshmello created an amazing song. The fun didn't stop there — Selena Gomez's "Wolves" performance at the AMAs had fans freaking out.
The singer had a very steamy and mysterious car wreck on stage. She appeared covered in blood in a simple, white slip dress with white sneakers. She has been loving her white sneaks this year. (Can't blame her.) She was then joined on stage by zombie-esque back-up dancers. For her first live performance in more than a year, she really brought it.
Let me rephrase: For her first live performance in more than a year AND just a few short months after her kidney transplant — it was incredible.
Fans are definitely feeling this whole wolf-zombie thing Gomez was going for.
Gomez had a very detailed strategy when it came to the release of her third single this year. She started off by taking to Twitter on Oct. 19 to announce she was working on a collab with music producer and DJ Marshmello. Needless to say, fans lost their freaking minds. Personally, I'm a huge fan of singer-DJ collaborations, I think they're always super unique and make me want to dance. But like, that type of (cool?) dancing that involves a lot of jumping up and down.
Then, on Oct. 24, one day before the song's release, Gomez unveiled the lyrics. Fan theories were pushing that "Wolves" was going to be about Gomez's ongoing battle with lupus.
Gomez has been in a battle with the autoimmune disease, lupus, since 2013. This year, on Sept. 14, Gomez casually dropped the bomb that she underwent a kidney transplant as part of her treatment earlier in the summer. Also, "lupus" in Latin translates to "wolf" in English so that only perpetuated the rumor.
However, once Gomez released the lyrics, we all saw that she actually created a super sexy, sultry song. The lyrics are amazing and will definitely make you want to get a crush on someone ASAP.
I've looked for love in every stranger
Took too much to ease the anger
all for you, yea all for you
I've been running through the jungle
I've been crying with the wolves
to get to you, oh to get to you
"Wolves" is all about that love you're trying to get to.
Besides being romantic AF, the lyrics are really catchy and you'll definitely sing along.
One to love and one to lose
Sweet divide, a heavy truth
Water or wine, don't make me choose
I wanna feel the way that we did that summer night
Drunk on a feeling, alone with the stars in the sky
People are wondering if the song is about Gomez's ex-boyfriend The Weeknd (real name Abel Tesfaye). The two met when they both performed at the Victoria's Secret Fashion Show in 2015. He was dating Bella Hadid at the time, so their first encounter probably wasn't love at first sight.
Your fingertips trace my skin
to places I have never been
Blindly I am following
However, "Bad Liar," which was released earlier this year, is also about catching feelings. Pattern? Maybe so. Gomez did reveal "Bad Liar" (and presumably "Wolves") was written about a year ago, leaving people to question whether it was about The Weeknd, since they dated for less than a year. But when you consider the fact that they met in 2015, it's totally believable that she had a thing for him from the beginning and was keeping those feelings on the back burner since he wasn't single.
"Wolves" seems like Gomez and The Weeknd were definitely past catching feelings. They were in deep. RIP.
I've been down the darkest alleys
Saw the dark side of the moon
to get to you, to get to you
Gomez can literally do no wrong this year in the music category. "Wolves" was better than I could have ever imagined and I can't wait to see what she does next.
Check out the entire Gen Why series and other videos on Facebook and the Bustle app across Apple TV, Roku, and Amazon Fire TV.