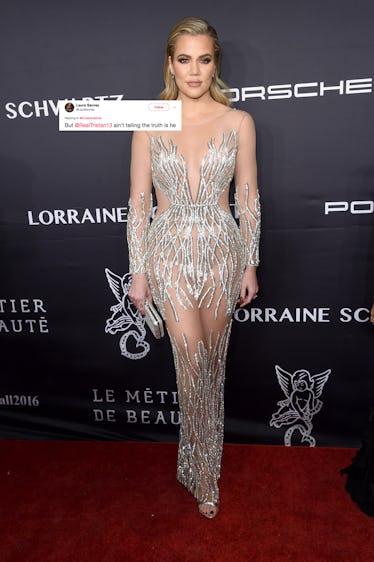 Fans Are Pointing Out One Ironic Detail About Khloé Kardashian's Baby Name
Jamie McCarthy/Getty Images Entertainment/Getty Images
You guys, she's finally here! On Thursday, April 12, Khloé Kardashian and Tristan Thompson welcomed their daughter into the world. While we've been waiting a bit to find out what Khloé and Tristan named her, on Monday, April 16, Khloé finally took to Instagram to let the world know that her daughter's name is officially True Thompson. I don't know about you, but I love it and think it's so unique. I'm not the only one who's hyped up about the name either, but maybe for a different reason. These tweets about Khloé Kardashian's baby name prove that fans are all thinking this is a pretty... well... ironic name choice.
Let's back up a little bit. On Dec. 20, 2017, Kardashian took to Instagram to share the news that she and Tristan Thomspon were expecting a child together. This was huge news, because Kardashian has been very vocal about wanting to become a mother, and her dream was finally coming true. Her post was beyond heartwarming, and part of her overwhelmingly sweet caption read:
My greatest dream realized! We are having a baby! I had been waiting and wondering but God had a plan all along. He knew what He was doing. I simply had to trust in Him and be patient. I still at times can't believe that our love created life! Tristan, thank you for loving me the way that you do! Thank you for treating me like a Queen! Thank you for making me feel beautiful at all stages! Tristan, most of all, Thank you for making me a MOMMY!!! You have made this experience even more magical than I could have envisioned! I will never forget how wonderful you've been to me during this time! Thank you for making me so happy my love!
The whole thing basically reduced me to tears, NBD.
So, on April 12, when TMZ reported that she had her daughter, the world turned into a puddle of tears because everyone was JUST SO HAPPY FOR HER.
Then, on April 16, she announced her daughter's name, True, via the sweetest Instagram post, captioned, "Our little girl, True Thompson, has completely stolen our hearts and we are overwhelmed with LOVE. Such a blessing to welcome this angel into the family! Mommy and Daddy loooooove you True!"
Needless to say, fans were shook, and took to Twitter to share their thoughts on the sweet lil' baby's moniker. And let's just say they found it pretty... ironic, especially since reports of Tristan Thompson cheating on Khloé began circulating just a couple of days before Khloé gave birth. Elite Daily reached out to both Kardashian's and Thompson's teams for comment regarding the reports, but did not hear back by the time of publication.
While Kardashian never fully confirmed what she'd be naming her daughter, she did give out some initial name ideas when she found out she was pregnant. On Jan. 4, Kardashian went on The Ellen DeGeneres Show and spoke with Ellen about wanting to find out the baby's gender. "There's too many surprises in this whole thing that I'm definitely going to know," Kardashian said.
Totally feel you, girl.
Kardashian continued to talk about name possibilities, and said, "I think if it's a boy, I'll go with Tristan Junior," which is actually adorable. But, as we all know, that wasn't the case, because in the season finale of Keeping Up With The Kardashians, it was revealed that Kardashian and Thompson would be having a girl. So, what did she tell Ellen her name choices were if it was a girl? She said, "For a girl I don't even know where to begin. I think I'll go with a K or a T name though."
Considering we now know her daughter's name is True, it seems like Khloé kept true (ha) to her word about what the first letter of the baby's name should be. Let's be honest, though: That name is 100 percent perfect for Kardashian's daughter, so bravo to her and Thompson for picking such a perfect moniker for their daughter.
If you don't hear from me for a while, it's because I'm anxiously awaiting adorable photos of True to storm my feeds. It may take a while, but don't worry. I'm totally willing to wait for greatness.