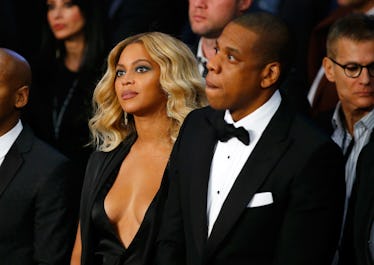 Fans Are Nervous About Beyoncé & JAY-Z's Relationship After Spotting This Tiny Detail
Al Bello/Getty Images Sport/Getty Images
I, like many others, love any reason to celebrate my main girl Beyoncé. Her and JAY-Z's 10th anniversary on April 4 this year was prime time to throw a party, and I was stalking the two to see how they celebrated. Alas, no news. The Beyhive picked up on the radio silence too, and now, tweets about Beyoncé and JAY-Z's 10-year wedding anniversary show everyone is feeling a little uneasy. Like, guys, where you at? Elite Daily reached out to both Beyoncé and JAY-Z's team for comment on why they were so silent on their special day, but did not hear back by the time of publication.
April 4, 2018, marks one decade of Queen B and hubby-Jay marriage. Sure, I'd much prefer to sit here and tell you it's been nothing but award-winning hits, cigars and champagne, and taking pictures on yachts together, but you and I both know that's a lie. Despite making it to the 10-year mark, these two have most certainly had some outrageous ups and downs throughout their relationship. *Cough* Becky with the good hair *cough.* They've also made a living out of capitalizing on their personal drama and turning it into music gold.
Because fans of the couple know they have a history of harboring drama and keeping things private long enough to make a hit record, fans suspect their public absence on their anniversary might be a clue. The Beyhive was hoping to see pics and Instagram stories of Bey and JAY sitting on the moon with a pack of wild tigers or something — but instead, fans got nothing.
Twitter is upset, to say the least.
After Beyoncé and JAY's respective album triumphs, Lemonade and 4:44, many people thought they might release a joint album on their anniversary. Especially because the numerical date, 4/4, obviously holds significance for them.
Fans agreed releasing a collaborative album on their 10th anniversary at 4:44 p.m. on 4/4 would be "the most" Bey and JAY thing they could do.
Instead — nothing. To make hysteria worse, their anniversary comes right on the heels of their joint On The Run II tour announcement.
After Ticketmaster and Beyoncé's Facebook page both accidentally released details about the tour, fans finally received confirmation when Beyoncé posted promo content on her Instagram. Bey and JAY's last tour together was back in 2014, and fans felt this reboot might be foreplay to the release of a collaboration album.
JAY-Z spoke to The New York Times' T Magazine about how music plays a role in his marriage. Specifically, he talked about the process behind Beyonce's tell-all album, Lemonade, and his response, 4:44. Jay said, "We were sitting in the eye of that hurricane."
He explained,
... And it was uncomfortable. And we had a lot of conversations. You know. [I was] really proud of the music she made, and she was really proud of the art I released. And, you know, at the end of the day we really have a healthy respect for one another's craft. I think she's amazing. You know, most people walk away, and like divorce rate is like 50 percent or something 'cause most people can't see themselves. The hardest thing is seeing pain on someone's face that you caused, and then have to deal with yourself.
He also said he and Beyoncé use their music as therapy and have never stopped making music together.
Sure. Except for on their 10-year anniversary, obviously.
Guys, please show us signs of life. Congratulations on making it this far together, and here's to hundreds and hundreds of years more! Happy anniversary, wherever you are.
Check out the entire Gen Why series and other videos on Facebook and the Bustle app across Apple TV, Roku, and Amazon Fire TV.