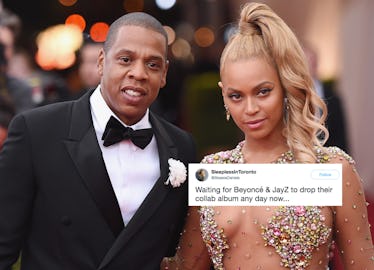 There Are Clues Beyoncé & JAY-Z Are Releasing A Joint Album & I Can't Deal
Mike Coppola/Getty Images/Twitter
Beyoncé and JAY-Z stopped the world when they announced the On The Run Part 2 tour on Monday, March 12. The announcement came via Beyoncé's Instagram, and fans immediately lost it. Another Beyoncé and JAY-Z tour?! Goodbye, savings! Our Lord and savior demands a holy sacrifice and we must be willing to give! With their second joint tour coming up, it's not far-off to ask: Are Beyoncé and JAY-Z releasing a new album? There have been rumors of this joint album for a while, and then JAY-Z confirmed they had created one in an interview promoting 4:44. But the question is whether or not that joint album will ever be released. Now that On The Run Part 2 is happening, however, it seems increasingly possible that we're finally going to hear Beyoncé and JAY-Z's album.
JAY-Z confirmed the rumblings that he and Bey made a joint album in an interview with T Magazine (part of The New York Times) on Nov. 29, 2017. He said in the interview that he and Beyoncé had nearly completed it when the ideas for Lemonade and 4:44 came up. The album was then put on hold in order for them to focus on their individual work, but they were supporting each other every step of the way, according to JAY-Z.
Now that On The Run Part 2 has been confirmed, fans think we're finally going to see that joint album.
Beyoncé announced the On The Run Part 2 tour on her Instagram on Monday, March 12, but there was no hint of an upcoming album to come along with it.
Beyoncé and JAY-Z's last tours were The Formation World Tour and the 4:44 Tour, respectively. The first On The Run Tour ran from June 25, 2014, to Sept. 13, 2014. While Lemonade and 4:44 were separate albums, they both largely focused on Beyoncé and JAY-Z's marriage, how it almost ended after he cheated, and how they worked together to heal from the pain. In reference to this, JAY-Z said, "We were using our art almost like a therapy session." He continued,
And we started making music together. And then the music she was making at that time was further along. So her album came out as opposed to the joint album that we were working on. Um, we still have a lot of that music. And this is what it became. There was never a point where it was like, 'I'm making this album.' I was right there the entire time.
And Beyoncé was right there while JAY-Z was making 4:44. No I.D., one of the album's producers, said there wasn't a song on the album that didn't have Queen Bey's input on it. He said in an interview with The New York Times,
I always call Bey our de facto A&R. Pillow talk is the strongest conversation on the planet. Every song has to get past her ears, in my eyes. She came by a lot and played a good part in helping us get over hurdles on certain records. Of course she's genius-level with that.
OK, so based on all of this, I feel like it's really freaking safe to assume that Beyoncé and JAY-Z have created a joint album. And as the massive Bey stan I am, I like to think she wouldn't go on tour unless she had new music to take with her. But playing devil's advocate here, neither Beyoncé nor JAY-Z had brand new music to tour with when they did the first On The Run tour. Sure, Beyoncé's self-titled album had come out about six months before the tour started, but she was already halfway through her Mrs. Carter Show World Tour when that album dropped (never forget where you were on that fateful day in December 2013) and she spent the rest of that tour performing music from that album. JAY-Z's Magna Carta Holy Grail came out on July 4, 2013, so neither of them had new music to show off. They just spent On The Run touring their old music and doing mashups of their songs. The success of the first On The Run tour proves they don't need new music to sell tickets to On The Run Part 2, so don't be surprised if the joint album never comes.
Beyoncé and JAY-Z know people will pay to see them no matter how new their music is, but given the fact that they've confirmed a joint album has been created, it's a little hard to believe they wouldn't release it before On The Run Part 2 comes out. Why even reveal it exists unless you hope to release it one day? It seems to me like JAY-Z was trying to gauge public interest in the album when he brought it up in that T Magazine interview.
Another hint that new music from Beyoncé (at the very least) is coming can be found on TIDAL. Queen Bey now has two profiles on the streaming service: One for Beyoncé, and one just called "B."
Sasha Fierce has apparently been laid to rest to make room for the era of B! When DJ Khaled announced his single "Top Off" featuring Future, JAY-Z, and Beyoncé, he just referred to Beyoncé as B. She rapped through most of her verses on the song, so this is telling me that Beyoncé and JAY-Z are either prepping the world for their joint album on which Beyoncé will rap on. But her solo "B" page on TIDAL, combined with the fact that she rapped on "Top Off," "Mi Gente," "7/11," and the "***FLAWLESS" remix with Nicki Minaj tells me... Beyoncé... could be releasing... a solo rap album. *Gulps, faints, ascends into heaven*. Whatever Beyoncé and JAY-Z are planning, I think it's safe to say we're going to be getting new music from them before On The Run Part 2 kicks off in June. PREPARE YOURSELVES FOR THE NEW ERA OF B.