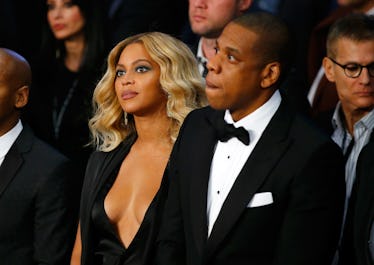 Fans Think This Is Why Beyoncé Isn't Sitting Next To JAY-Z At The Grammys & I'm Shook
Al Bello/Getty Images Sport/Getty Images
Everyone remain calm and prepare yourselves for what I'm about to say. Take a seat. Grab a glass of water. Buckle your seat belts. I don't care what you need to do, just get ready. Beyoncé might be doing a surprise performance at the Grammys. *Runs and hides for cover as the BeyHive runs amok.* Tweets about Beyoncé at the Grammys pose a theory that Beyoncé is performing the Tina Turner tribute tonight, and the theory honestly tracks. Everyone brace yourselves. Beyoncé is coming (maybe).
The theory goes a little something like this: Tina Turner is one of the artists receiving a lifetime achievement award from the Recording Academy this year. These recipients often have Grammy performances in their honor, but there has so far been no announcements regarding who will perform a Tina Turner tribute. Turner is one of Beyoncé's idols and they have performed on stage together before, and Beyoncé wasn't sitting with JAY-Z at the Grammys early in the night. She later appeared in the audience with Blue Ivy, but we don't know what she was up to before that. Perhaps she was backstage getting ready to perform, according to this theory?!
The BeyHive is emotionally preparing themselves for another surprise from the queen.
Honestly, Beyoncé, I cannot handle all of these surprises. I need you to warn me about these things; these surprises are just too much! It's been like this since 2013! Please, give me rest! LMAO, just kidding. Keep on being the queen. No one does it like you, my leader.
Beyoncé and JAY-Z skipped the Grammys red carpet, and fans were like, "WTF, guys?!" JAY-Z was also sitting by himself for the first half of the show, no Beyoncé in sight. I mean, he' was not sitting completely alone. There are lots of people sitting around him. None of those people were Beyoncé though, so... But guys, when you spend pretty much all of your time making conspiracy theories about when Beyoncé is going to drop some kind of surprise like I do, you know when the winds are a changin'. I can feel it. Beyoncé is performing at the Grammys on Sunday night. Do what you need to get ready. While Beyoncé's surprise performance will no doubt be the best part of the night, there have already been some iconic performances.
Kendrick Lamar opened the Grammys and pretty much shut everything down right away.
It was the first performance of the night, and people immediately labeled it as one of the best. And with a Dave Chappelle cameo, they honestly aren't wrong.
Lady Gaga's Grammys performance came right after Lamar's. She did a stunning piano version of "Joanne" and belted her face off singing "Million Reasons."
Fans sobbed their eyes out, and honestly, same.
Some other highlights of the night so far have been Pink's Grammys performance, Chrissy Teigen and John Legend on the Grammys red carpet, Lil Uzi Vert talking about Pop-Tarts, and Childish Gambino's Grammys performance. As for what the rest of the night has in store for us mere peasants, there is no confirmation Beyoncé is actually performing at the Grammys. I'm just trying to ~will it~ into existence by throwing my dreams out into the universe. So my life is basically in your hands once again, Beyoncé! Please be gentle with my weary soul! Tina Turner is one of the many artists receiving a lifetime achievement award this year. Given that there's so many recipients, it's possible they each won't get individual performances dedicated to them. But it'd be pretty freaking great if Bey did one! Did I get that point across yet?