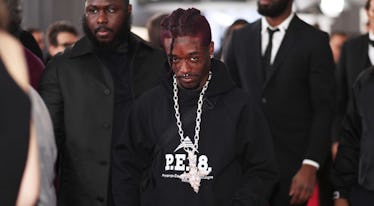 Lil Uzi Vert Talked About Pop-Tarts On The Grammys Red Carpet & TBH, It Was Everything
Christopher Polk/Getty Images
Red carpet interviews can be pretty awkward a lot of the time, but Lil Uzi Vert just owned his Grammys red carpet interview with Giuliana Rancic, giving off some extremely chill vibes for the massive awards show. Check out Lil Uzi Vert's hilarious Grammys red carpet interview below.
Among all the various celebrity interviews ahead of the 60th Annual Grammy Awards on Sunday night, Lil Uzi Vert's chat with E! News personality Giuliana Rancic definitely stood out from the crowd. The young rapper was clearly feeling very chill and unfazed by all the commotion of music's biggest night. Rancic was trying her best to get Uzi talking, but he remained a man of few words. He did give some pretty amazing shoutouts to Dolce & Gabbana and Pop-Tarts in his short interview, though... and Rancic ended up dubbing it her "favorite interview of the night."
Giuliana Rancic asked Lil Uzi Vert what he is planning to do if he winds up winning the Best New Artist award at the Grammys, or if he takes home Best Rap Performance for his collaboration with Migos "Bad and Boujee." The new rap star responded that he is looking forward to a shopping spree:
If I win, I'm just gunna think about everything I'm gunna buy the next day. I like to shop, so shopping.
But the best part of the interview was at the very end, when Rancic asked what Lil Uzi Vert will be doing next. Rather than tease some new music or other projects like you would expect, Uzi got real about his plans to chow down on some sweet, sweet breakfast pastries tomorrow:
Waking up, eat some Pop-Tarts
Honestly.... relatable. Check out video clips from the interview and some hilarious reactions to Lil Uzi Vert's Pop-Tarts shoutout below:
I am definitely going to be eating some Pop-Tarts tomorrow morning in solidarity with Lil Uzi Vert, no matter if he wins at the Grammys or not. But believe it or not, Lil Uzi Vert's E! interview was only one of his instantly iconic moments on the Grammys red carpet on Sunday night. The rap star also blew up online for his look. Lil Uzi surprised fans by going full goth at the awards show, rocking a black hoodie and huge, black pants with chains. A lot of fans were loving (or at least commenting on) the Hot Topic-inspired look on Lil Uzi. Check out the responses below:
Lil Uzi Vert broke out in a major way thanks to his collaboration with Migos, the ubiquitous "Bad and Boujee," which was released at the end of 2016. Although that song came out more than a year ago, because of the weird record release schedules, it is actually eligible for the Best Rap Performance award at this year's awards ceremony. Along with that category, Lil Uzi Vert is also up for the Best New Artist category, going up against stiff competition from Alessia Cara, Khalid, Julia Michaels, and SZA. Last year, Chance the Rapper took home that award, so a win for Lil Uzi would keep the coveted newcomer award within the rap genre.
After breaking out with his Migos-assisted smash "Bad and Boujee," Lil Uzi Vert dropped his debut studio album Luv Is Rage 2 last year, a follow-up to his first mixtape, 2015's Luv Is Rage. This year marks his first (and second) nomination at the Grammy Awards.
And hey — if Lil Uzi Vert does sadly lose both of his Grammy categories, it sounds like he can just bury himself in a pile of Pop-Tarts and be just as happy.