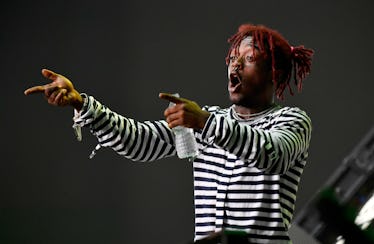 What Is Lil Uzi Vert's Real Name? The Rapper Has A Really Unique Moniker
Frazer Harrison/Getty Images Entertainment/Getty Images
With the 60th Annual Grammy Awards nominees recently announced, it's clear that there are some artists who were basically no-brainer nominations, like JAY-Z, Ed Sheeran, and Taylor Swift (even if she only got two nominations, hey, it's better than nothing, amirite?). But there are some up-and-coming artists that got some Grammy shoutouts, and I think it's about damn time we show a bit more interest in the musicians who are on their way to the top. The Best New Artist category features a few names that we're all familiar with by now (hi, Alessia Cara!), but there are some names that appear on the list that are head-scratchers. Who are these people and what have they sung? Should I know them? Am I just not relevant anymore? A rapper named Lil Uzi Vert is on that list, and it's OK if you don't know his name off the top of your head or what he does. That's what I'm here for. Let's take a look at his claim to fame, the backstory to his MC name, and what exactly Lil Uzi Vert's real name is, because let's face it, who doesn't want to know the real names of rappers? Looking at you, Snoop Dogg, AKA Calvin Cordozar Broadus Junior.
Lil Uzi Vert's "XO TOUR Llif3" beat "Despacito" at the MTV Video Music Awards
Remember Luis Fonsi and Daddy Yankee's "Despacito?" Of course you do, because that song will literally not ever fully get out of your head. Also, my deepest apologies if just seeing the word "despacito" caused you to sing the chorus repeatedly, unable to kick it out of your brain.
When "Despacito" was up for the MTV Video Music Awards Song of the Summer, fans didn't think twice about it winning, because, duh. That song was everywhere. So when the award went to Lil Uzi Vert's "XO TOUR Llif3", people were like, wait, what?
But honestly, it put Lil Uzi Vert on the map, because ultimately people really started paying attention to him after that. After carefully listening to his music, you realized his work was FIRE:
His rapid-fire rapping caused the rap community to take note, and he has since worked with artists like Migos, Playboi Carti, and Wiz Khalifa. In an interview with Complex Magazine, Lil Uzi talks about how he got started in the rap game:
I was just trying to get rich. Man, I'm not gonna lie to you; I didn't really want to go back to school. I mean, my family was mad about that. Because you know, you tell your family you want to rap and they look at you like you're crazy. Like, "You really trying to take this hobby and make it a job?" I'm like, "Yeah." So I really didn't want to go back to school. I mean, don't get me wrong, school is good and all, but school is way too slow for me. Like, super slow. So I didn't want to go. I wanted to learn on my own with real life experiences.
So basically, he's famous because he wanted to ditch school and get rich. And it actually worked. Living. The. Damn. Dream.
His real name is actually Symere Woods
Although he was born Symere Woods, the North Philly native has a reason for his MC name. In an interview with Vibe, Lil Uzi talks about how he came up with his rap name:
Some guy was just like, 'You rap fast, man. Like a little machine gun.' And from that moment I was Lil Uzi.
Along with his ability to rap at rapid speed, he's also got the talent to rap his lyrics precisely. Stereogum said it best when talking about Lil Uzi on one song in particular, "Money Mitch":
The simple fact is that rap music is ever-changing and rarely prone to stagnation, but if you've ever wanted to hear #bars from Lil Uzi Vert, he provided them on "Money Mitch," from The Perfect LUV Tape. Produced by Zaytoven, Lil Uzi Vert slows down his often dizzying flow and presents us with some of his most precise, landed verses.
So, yeah, safe to say that Symere's got talent. You do, you, Lil Uzi.