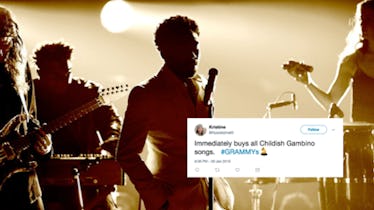 Tweets About The Grammys Prove Childish Gambino & Lady Gaga Are The MVPs Of The Night
The 60th Annual Grammy Awards are in full swing, and social media isn't missing a minute of it. The red carpet was per usual incredibly stunning and filled with fashion forward looks from celebs like Lana Del Rey and Lady Gaga. But this is one award show where we love to watch what comes after all the "Who is she? Who is she wearing?" questions. Some of the best entertainers will take center stage, and music lovers are taking to Twitter to show their appreciation for the unreal performances and awards. The best tweets about the Grammys prove that Childish Gambino and Lady Gaga have so far been the MVPs of the night, with Kendrick quick to follow.
When anything happens in the world, Twitter likes to run with it. This is particularly the case during award show season. Thanks to live-tweeting, these events have become so much more of an experience. From Angelina Jolie's iconic leg moment on the red carpet, to celebs dancing in the crowd that somebody instantly turns into a GIF — the Internet truly sees everything first.
The Grammys are music's night to shine, but everybody still has something to say. From the performances to the presenters, there's bound to be a moment worth a meme or salty subtweet. This year's awards are hosted by the carpool karaoke man himself, James Corden. (If we're being honest, these shows have seriously stepped up their hosting game. Although nothing will really beat Tina Fey and Amy Poehler tag-teaming the role for the Golden Globes. I ain't sorry.) The show is being held in New York City, which is a total change-up from its usual location in Los Angeles.
Prior to tonight, the Academy announced performers like Kendrick Lamar, Childish Gambino, Pink, Lady Gaga, and Little Big Town. Lamar in particular opened the show with a lit performance that was incredibly politically-charged. He was nominated for seven awards, including Best Rap Album (Which he won.) and Album of the Year for his certified double-platinum album, Damn. Other nominees tonight include Jay-Z who picked up eight nominations for 4:44, "The Story of O.J.", and his "Family Feud" collab. Bruno Mars is just behind him with six nominations for 24K Magic and his catchy tune "That's What I Like," that we can't help but sing along to on the radio.
For those who don't know, Childish Gambino and Donald Glover are indeed the same person. From acting, to directing and producing, and dropping beats — what can't he do? My spidey senses are tingling to tell me that entertainment wise there's really not much standing in his way.
Lady Gaga also had fans feeling some type of way. Her performance was the second of the night and tugged on our heartstrings per usual. She powerfully sang her most recent single "Joanne," followed by her Grammy-nominated hit "Million Reasons." Her most recent album has been much more emotional than the ones in the past. You won't get the same vibes off of any of these tracks as you would "Poker Face" or "Bad Romance," and I think it's safe to say the meat suit has been swapped for studded leather jackets instead. Tonight, she is nominated for two awards: Best Pop Vocal Album for Joanne, and Best Pop Solo Performance "Million Reasons."
Watch her Grammys performance here:
So, what does Twitter have to say about these two? Let's give it a look:
Until the next award show, Twitter.