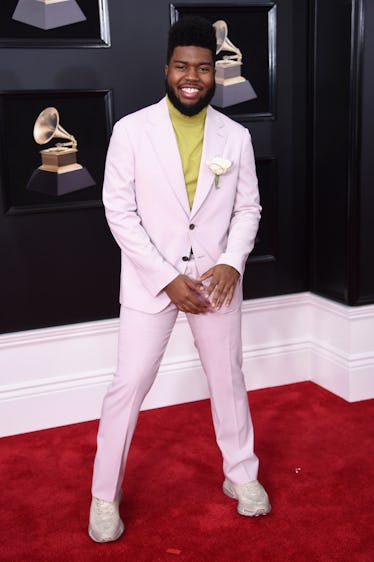 Khalid Got Snubbed For Best New Artist At The Grammys & Twitter Is Furious
Dimitrios Kambouris/Getty Images Entertainment/Getty Images
The Grammys gathers musicians, artists, and songwriters from different genres in one star-studded evening of greatness. And as anxious as we are watch our TV screens, it doesn't even amount to the jitters actually inside Madison Square Garden on Grammys night. The nominees for Best New Artist for the 60th annual Grammy Awards were: Alessia Cara, Khalid, Lil Uzi Vert, Julia Michaels, and SZA. Alessia Cara ended up sealing the deal as the Best New Artist Winner and she was shaking at the mic during her speech. But tweets about Khalid being snubbed for Best New Artist really took over social media.
Cara mentioned how she would rehearse winning a Grammy when she was younger, but actually winning was a totally new experience for her. As any of us can attest to, shower rehearsals for winning any award are definitely different than the real thing. The artist went on to thank her family who has been supporting her since day one.
Twitter wasn't really having it though, and immediately after the announcement of Best New Artist, people vented about Khalid being snubbed.
Of course, everyone should try to be a good sport about the decision because ultimately, someone, aka Alessia Cara, is experiencing a milestone in her career. It's a big deal and even if people have opposing views on who should have won, you can't overlook that this is an incredibly awesome award for a new artist.
Seriously, people were pretty pissed and did not hold back their feels.
Watching an artist win this specific award is a little bit different than the other 84 categories of the Grammys. It's like watching someone for the first time get acknowledged for a passion they have likely worked their butts off to make it come true on a much bigger scale. At the Grammys last year in Los Angeles, Chance The Rapper was the Best New Artist Winner, although his first mix tape dates back to 2012. He was also nominated for seven categories total during the 59th annual Grammy Awards.
The Best New Artist Award is meant to be given to an artist or group who has released marvelous work during the eligible time frame. It's not so cut and dry, though. There's a specific definition that classifies a "new artist." According to the Grammys website,
... a 'new artist' is defined for the GRAMMY process as any performing artist or established performing group who releases, during the eligibility year, the recording that first establishes the public identity of that artist or established group as a performer.
The concept is that the artist has definitely arrived on the scene and has made a notable mark that has given us a perspective of their sound and identity. The rules for this specific category are certainly confusing, especially if you consider that an artist can be disqualified from being nominated for the Best New Artist category because of one particular rule. The Grammys website explains,
A GRAMMY nomination in a performance category in a prior year disqualifies an artist from competing in [Best New Artist] category, unless the nomination came from a single or a guest spot on another artist's recording, and the artist hadn't yet released a full album.
So, yes, there are certainly rules to this process, but it hasn't stopped the Grammys from having the Best New Artist category since the 2nd annual Grammy Awards in 1959, when Bobby Darin took home the award. This category has also crowned winners such as The Beatles, Mariah Carey, and Sam Smith. It's an incredible milestone for artists establishing themselves in the music industry. Whether you are simply nominated or actually win, you still get to add "Grammy-nominated" or "Grammy Award-winning" to your title.