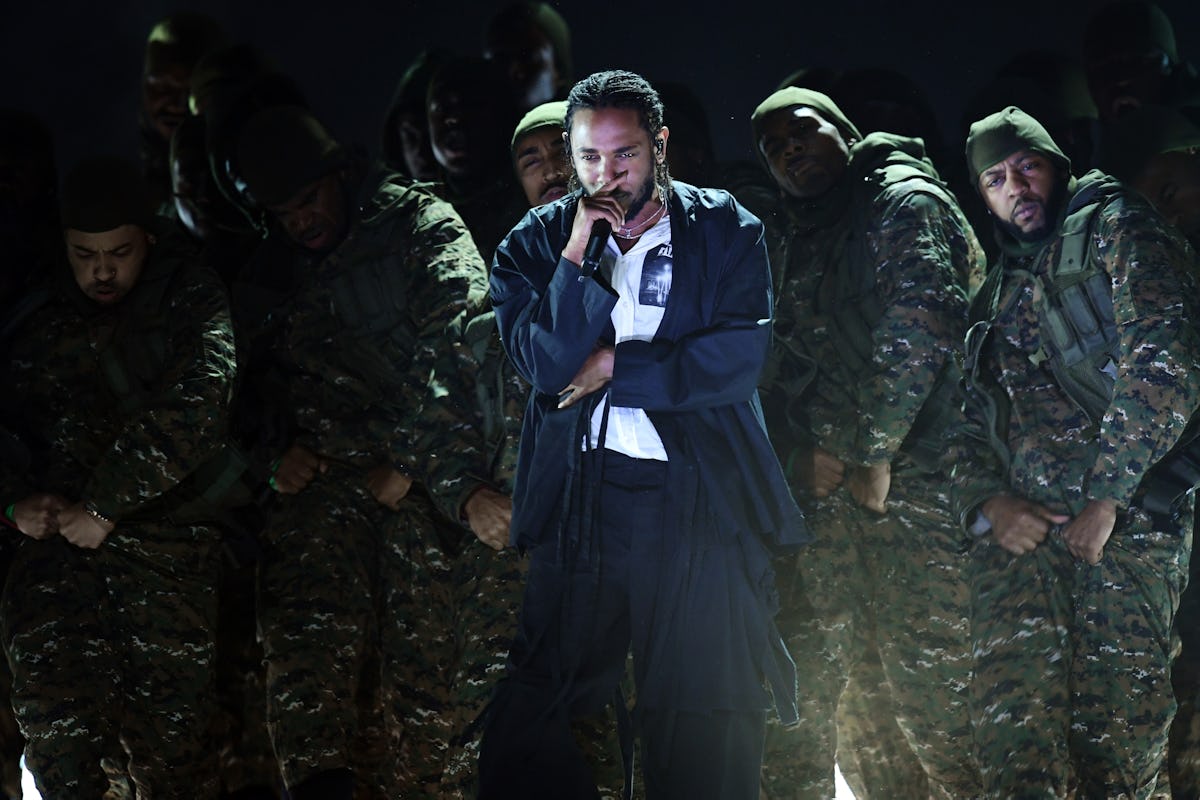 The Grammys Opening Performance Was So Powerful & Twitter Can't Handle It
Kevin Winter/Getty Images Entertainment/Getty Images
In the midst of Awards Season, which mostly focuses on movies and television, the Grammys drop in like a sudden distant relative who really wants to talk your ear off about music. This year, the Grammys are being held at Madison Square Garden in New York City; it's the first time the show has been on the East Coast since 2003. But the show is keeping its host from last year: James Corden, who did so well last year after taking over from longtime Grammys staple LL Cool J. So how did the 2018 Grammys opening performance go this time round in New York City?
Like Mr. Cool J, James Corden is chosen less for his biting wit or music industry cred than for his affability. His British humor on the this side of the pond comes off like a much gentler version of Ricky Gervais, but instead of turning the tables and insulting you, the only people he insults are his own foibles. As he himself noted onthe red carpet, he's not really needed to do any sort of opening sketch. The show can got from performance to performance and everyone will love it.
That's why instead of a sketch, the Grammys went with an opening performance by the man of the evening, Kendrick Lamar, doing a medley of his hits, including "XXX" with guest Bono of U2 and the Edge as well as "DNA" and "DAMN," mixed with comedian Dave Chappelle between tracks. It was a stunner.
Check out the video:
Twitter went nuts for it.
Having Kendrick Lamar open was not just a statement in support of rap and urban contemporary. Kendrick is known for his political rhymes and his willingness to get up and talk about the issues of the day. It's one of the reasons he's so respected in the music community. (It's also one of the reasons someone like Bono is so eager to work with him.)
And it's one of the reasons fans were so blown away by his performance.
It's also why a lot of his fans were on Twitter telling those watching at home not to just watch, but listen to the words. (Turn on captions if you have to.)
No seriously, Kedrick's speed is so fast that closed captions are a necessity, especially if you're not someone who is accustomed to listening to his music.
Unfortunately, closed captions aren't available in the theater, which explains some of the faces they were making, trying to follow along.
When it was announced earlier today that Lamar would be doing the opening number with Bono and Dave Chappelle fans were a little perplexed. Bono makes sense, he and The Edge are featured on the "XXX" track, but Dave Chappelle?
But Chappelle was there basically as a segue between each song. Since, unlike say, a Celine Dion song medley, there's not an easy way to transition between songs, simply having Lamar stop and have Chappelle make smart and politically on-the-nose remarks was a really clever way to handle these transitions.
Chappelle's interludes got tweets of their own.
But in the end the focus stayed on Kendrick.
For the record, Lamar is nominated for seven Grammys this evening, three of which were given out in the early presentation portion of the show, and four of which will be given out during the broadcast. Before performing Lamar had already run the table on his early Grammys winning "Best Rap Song" and "Best Rap Performance" for "HUMBLE", and "Best Rap/Sung Collaboration" for "Loyalty."
Still to come for him tonight "Album of the Year," "Record of the Year," "Best Rap Album," and "Best Music Video" (and category invented for Beyoncé last year.) If there was anyone on the fence on him being worthy of those awards, I think he just put that to rest.