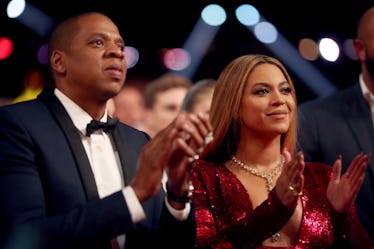 Beyoncé & JAY-Z Skipped The Grammys Red Carpet & Fans Are Like WTF?
Christopher Polk/Getty Images Entertainment/Getty Images
JAY-Z is up for the most Grammys out of any artist this year with eight nominations. His album 4:44, released in June 2017 to lots of praise, scored him nominations in the coveted Album of the Year, Record of the Year, and Song of the Year categories. He's up against Kendrick Lamar, Childish Gambino, Lorde, and Bruno Mars for Album of the Year at Sunday's awards show, and despite that impressive pool of competitors, many fans think he's going home with the gold. Because of his many nominations, fans are wondering: Are Beyoncé and JAY-Z at the Grammys? Well, they most likely will be, but they totally skipped the red carpet. I mean, they're the king and queen of the music industry, so they don't really need to show up on the red carpet, but fans wanted to see them nonetheless.
4:44 shook the world because JAY-Z admitted he cheated on Beyoncé in the titular song, "4:44." Of course, we already knew he did because of Beyoncé's Lemonade, but it's rare that you hear the truth from the person who actually cheated. Between Lemonade and 4:44, we were told the story of how JAY-Z had an affair and how they eventually healed their marriage. Their marriage is now better than ever, as proven by, well, the things JAY-Z flat-out says in interviews.
In an interview with The New York Times about 4:44, JAY-Z talked about how the affair happened, and the reasons are rooted deep in his past. He said growing up in an underprivileged community in Brooklyn caused him to basically completely disconnect from his emotions. Before we dive into this, let's look at these photos of Beyoncé and JAY-Z at the Grammys.
This was Beyoncé and JAY-Z at the pre-Grammys parties this weekend. HAVE YOU EVER SEEN A MORE STUNNING QUEEN?
Fans are bummed Bey and Jay didn't hit the Grammys red carpet, but it's OK. We'll see them once the show starts.
In his interview with The New York Times' T Magazine, JAY-Z said he had to learn how to survive when growing up in Brooklyn. He said,
So you go into survival mode, and when you go into survival mode what happen? You shut down all emotions. So even with women, you gonna shut down emotionally, so you can't connect ... it's, it's deep. And then all the things happen from there: infidelity ...
He attributed this inability to connect to the reason he was able to cheat. He said, "Every emotion is connected and it comes from somewhere. And just being aware of it. Being aware of it in everyday life puts you at such a ... you're at such an advantage."
While JAY-Z and Beyoncé are at the Grammys to celebrate JAY-Z's album (and to represent for the song they're both nominated for, "Family Feud"), they might be attending next year's Grammys for their... wait for it... joint. album.
That's right!! I said it!! A Beyoncé and JAY-Z joint album might be on the way. In the same interview with T Magazine, JAY-Z revealed Lemonade and 4:44 were actually products of them working on music together. *Heart skips 12 beats*. He said they were using music to help heal their marriage after his infidelity, but they both realized they had individual stories to tell before that collaboration came out. The result? Lemonade and 4:44. The rapper said,
We were using our art almost like a therapy session. And we started making music together. And then the music she was making at that time was further along. So her album came out as opposed to the joint album that we were working on. Um, we still have a lot of that music. And this is what it became. There was never a point where it was like, 'I'm making this album.' I was right there the entire time.
Even though Lemonade threw a lottttt of shade at JAY-Z ("You ain't married to no average b*tch, boy!"), he said he was proud of his wife's work and was more than happy to let her speak her truth. He said,
And that's where we were sitting. And it was uncomfortable. And we had a lot of conversations. You know. [I was] really proud of the music she made, and she was really proud of the art I released. And, you know, at the end of the day we really have a healthy respect for one another's craft. I think she's amazing.
Uh, yeah. That goes without saying, JAY-Z. Lots of people wondered why Beyoncé took him back after he cheated. JAY-Z addressed that topic in this interview, saying they wanted to do the hard work it would take to really heal because healing, as he says, is much harder than walking away. (He's not wrong.) He said,
You know, most people walk away, and like divorce rate is like 50 percent or something 'cause most people can't see themselves. The hardest thing is seeing pain on someone's face that you caused, and then have to deal with yourself ... So, you know, most people don't want to do that. You don't want to look inside yourself ... And so you walk away.
Great, now all I'm doing is watching the "Sandcastles" music video and sobbing/screaming "SHOW ME YOUR SCARS, AND I WON'T WALK AWAY" into my laptop. Have a great rest of the Grammys, people!! I'm fine!!