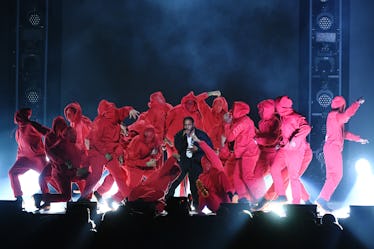 Fans Can't Get Over Dave Chappelle's Appearance During The Grammys Opening Performance
Kevin Winter/Getty Images Entertainment/Getty Images
"Sit down. Be humble." Although, for Kendrick Lamar Grammys performance this year, we might make some exceptions. The rapper has been making waves in the world of music this past year with his latest album, Damn. It has possibly been the most successful part of his career thus far, landing him seven nominations at the 2018 Grammys, including Album of the Year and Best Rap Album. This performance might have been his most political and artistic yet, with a cameo from Dave Chappelle and fiery visuals that will absolutely spark important conversations about our social culture. These tweets about Dave Chappelle at the Grammys prove fans were totally here for it all.
Leading up to the always long-awaited award show, there were several rumors going around that Lamar would be the opening act. Adele, Taylor Swift, and the always spectacular Beyoncé belting out "Drunk In Love" have all held this spot in the lineup. (We didn't think it could get any better than that, and if we're being honest, I watched one of my roommates bawl her out eyes just centimeters from the screen for that perfect performance.) But, Lamar didn't disappoint and kept the tradition of doing daring things on the Grammys stage.
The performance started with Lamar spewing out lines surrounded by soldiers, with an American flag flowing in the background. The stage went dark and the words "This is a satire by Kendrick Lamar" illuminated the screen to sounds of piano keys. Seconds later, U2 came out and the crowd once again went wild.
I don't think anybody was expecting Dave Chappelle to show up, but his interruptions absolutely elevated this performance. He used his time on the stage to speak some truth to the audience: "The only thing more frightening than watching a black man be honest in America, is being an honest black man in America." Instant mic drop.
Lamar continued, this time solo on the stage with only one other person who was playing the drums. Cue Mr. Chappelle one more time. "This brother's taking enormous chances," he said. Truth is, these songs make such waves because they talk about the topics that can be uncomfortable. But, change doesn't happen until people take those chances and get uncomfortable. Lamar finished up his performance with a simulation of people getting shot. Kendrick really left it all on the Grammys stage.
In the past, Lamar's performances have quiet literally been lit. Setting stage props on fire during the 2017 MTV Video Music Awards held last August certainly set the bar high — as if these award shows weren't so anticipated as it already stands. That night, Lamar performed hits like "Humble" and "DNA." The album itself went certified double platinum just months before in May.
Watching rap live gives it a whole new sense of life. Where some people fail to see the art in this kind of music is that they lose the meaning behind the words. Think back to "My Generation" by Nas, which talked about overcoming all the adversities he faced growing up. Like poetry, or even the words I'm writing now, it's a form of storytelling — but one that's upgraded because it's put to an epic beat.
Before the Grammys show started, Lamar snagged the award for Best Music Video for his hit, "Humble." The track from Damn has been highly-acclaimed since it hit single status and the visionary video was released. Recreating scenes from Leonardo Da Vinci's The Last Supper and putting a lot of focus on production, there is a lot of meaning behind this vision. You'll surely still hear this song on the radio in the many years to come.
This is truly just the start for this rap star, who will soon be touring with Top Dawg Entertainment for TDE: The Championship Tour with SZA and Schoolboy Q. For now, let's see what the world is saying about another legendary Lamar performance, this time on the Grammys stage.
There were the fans who were so ready to give Kendrick all the appreciation he deserves:
And the ones who realized Dave Chappelle was the true star of the show:
For real though — Dave Chappelle is the real MVP.
Kendrick won the first award of the night after his opening performance for Best Rap/Sung Collaboration with Rihanna on his track "Loyalty." A strong start for the Grammys, and an incredibly electric evening for Lamar. But, I think we're all putting a note in next year's suggestion box that Dave Chappelle should absolutely be the host.