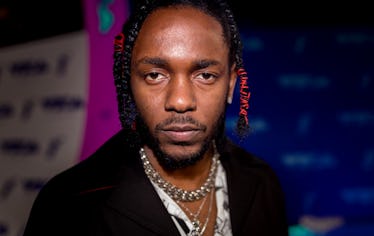 Kendrick Lamar's Song "Humble" Is Actually Way Deeper Than You'd Think
Christopher Polk/Getty Images Entertainment/Getty Images
The Grammys are approaching which means it's time to look back and appreciate all the great music from the past year. One artist that no one could stop talking about was Kendrick Lamar. With the release of his album, Damn, in April — it seemed like Lamar was everywhere. His first single from that album, "Humble," is still being played nonstop, and has been highly acclaimed as one of the best rap songs of the year. The meaning of Kendrick Lamar's "Humble" is actually extremely thoughtful.
While the beat is addictive, Lamar's lyrics send such a strong message. A review from OkayPlayer compared "Humble" to Beyoncé's "Formation" in the way that it's a call to African American men to come together (aka get in "Formation") in order to do something great.
According to OkayPlayer, "Humble" is "a call for black men to take an introspective look at their place and power. He [Lamar] is self-aware of the stance of humility he needs to take and is encouraging other men to do the same." This includes men remaining humble in their relationships with women. In the music video, Lamar goes to a salon which could be a way of trying to connect to women and seeing things from their perspective.
What created such a strong conversation around "Humble" and Lamar's message was the extremely powerful and visual music video. It started with Lamar standing under a holy-looking spotlight. Then, he appeared in a number of various scenes — from rolling around in money to re-creating "The Last Supper" by Leonardo da Vinci.
The video starts,
Wicked or weakness? / You gotta see this / Waaaaay (yeah, yeah)
Followed by a second short intro,
Nobody pray for me / It's been that day for me / Waaaaay (yeah, yeah!)
The first verse talks about Lamar's rise to wealth.
Ayy, I remember syrup sandwiches and crime allowances
Finesse a n**** with some counterfeits, but now I'm countin' this
Parmesan where my accountant lives; in fact, I'm downin' this
D'USSÉ with my boo bae tastes like Kool-Aid for the analysts
Girl, I can buy yo' ass the world with my paystub
Ooh, that p*ssy good, won't you sit it on my taste bloods?
I get way too petty once you let me do the extras
Pull up on your block, then break it down: we playin' Tetris
A.M. to the P.M., P.M. to the A.M., funk
Piss out your per diem, you just gotta hate 'em, funk
If I quit your BM, I still ride Mercedes, funk
If I quit this season, I still be the greatest, funk
My left stroke just went viral
Right stroke put lil' baby in a spiral
Soprano C, we like to keep it on a high note
It's levels to it, you and I know
Of course, the chorus is sure to get stuck in your head.
B*tch, be humble (hol' up, b*tch)
Sit down (hol' up, lil', hol' up, lil' b*tch)
Be humble (hol' up, b*tch)
Sit down (hol' up, sit down, lil', sit down, lil' b*tch)
Be humble (hol' up, hol' up)
In the second verse, Lamar touches on unrealistic beauty standards when he refers to being "sick and tired of Photoshop." He also says that when he communicates, his "soul speaks" which is very apparent in all his songs.
Who dat n**** thinkin' that he frontin' on Man-Man? (Man-Man)
Get the f*ck off my stage, I'm the Sandman (Sandman)
Get the f*ck off my d*ck, that ain't right
I make a play f*cking up your whole life
I'm so f*ckin' sick and tired of the Photoshop
Show me somethin' natural like afro on Richard Pryor
Show me somethin' natural like ass with some stretch marks
Still will take you down right on your mama's couch in Polo socks
Ayy, this shit way too crazy, ayy, you do not amaze me, ayy
I blew cool from AC, ayy, Obama just paged me, ayy
I don't fabricate it, ayy, most of y'all be fakin', ayy
I stay modest 'bout it, ayy, she elaborate it, ayy
This that Grey Poupon, that Evian, that TED Talk, ayy
Watch my soul speak, you let the meds talk, ayy
If I kill a n****, it won't be the alcohol, ayy
I'm the realest n**** after all
Kendrick Lamar is definitely the most popular artist of the year. The love shows with Lamar's seven Grammy nominations. One thing is for sure – with his unstoppable music, he will be prominent for a very long time.
Check out the entire Gen Why series and other videos on Facebook and the Bustle app across Apple TV, Roku, and Amazon Fire TV.