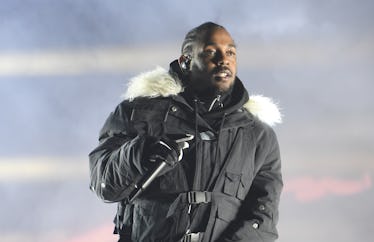 Kendrick Lamar's Net Worth Proves He Deserves Every Grammy Nomination & Then Some
Paras Griffin/Getty Images Entertainment/Getty Images
Kendrick Lamar is at the very top of his game right now and we were, are, and have been here for it. The rapper set the world on fire in 2017 when he dropped his latest album, Damn, and blew fans' minds. He's now riding that album all the way to the Grammys and the bank. Kendrick Lamar's net worth is no freaking joke, you guys, and he deserves every penny.
In 2015, Forbes reported that Lamar took home $12 million before taxes. That was three years ago, and since then, a variety of sources claim he is making nearly three times as much now, coming in somewhere around $33 million. (I know, seems like a pretty big disparity to me, too.) Money Nation ballparks him above $30 million, thanks to his concert tours, product endorsements, album sales, and ad revenue from YouTube.
Earlier in his career, Lamar told Forbes, "Always be critical and smart about the moves you make. All money ain't good money."
...Right. I'll remember that.
He added,
When you're in this situation with all the lights on you, you're going to get a lot of offers thrown at you, but if it's not something that you see has longevity in it, you have to pass it up.
It's this sense of self and priorities that partially makes Lamar's music so good. In fact, Rolling Stone called Damn the number one rap album of 2017. Still, Lamar isn't content to just take the compliment and move on. In an interview with Variety, Lamar mused on the idea of what actually makes an album good. He asked, "What makes a hit record?"
... Because it has some kind of numbers behind it? Is it the amount of streams or the amount of sales or the amount of spins on the radio? Nobody can really justify which one it is, because I've heard hundreds of records from inside the neighborhood that were quote-unquote 'hit records' and never stood a day outside the community.
Variety called Lamar "a spiritual seeker and an intellectual with a monastic demeanor," which, for all intents and purposes, checks out. One thing Lamar's fans love to obsess over is all of the hidden meanings and riddles in his music. Lamar says,
I think the more people talk about it, the more it becomes fascinating, and you can have a debate about it. It's all healthy because it's talking about the music. As long as I keep knowing how much to give, giving just enough, and being able to pull back and leave the audience to interpret it, I think [the music] will stay intact.
Lamar's efforts on Damn earned him seven Grammy nominations this year, including Record of The Year for "Humble." He is also up for Album Of The Year, Best Rap Album, Best Rap Song, Best Rap Performance, Best Music Video, and Best Rap/Sung Collaboration.
Lamar will be going to head-to-head with fellow rap giant JAY-Z, who earned one more nomination in the Song Of The Year category for his track, 4:44.
Academy President Neil Portnow told The LA Times,
I think the nominations are a reflection of a very savvy current voting membership who really do have their fingers on the pulse of what is happening in music. I think they're also exhibiting good judgment about what represented excellence in music this year.
To see if Lamar pulls to the head of the pack, tune into the 2018 Grammys on Sunday, Jan. 28 beginning at 7:30 p.m. on CBS.
Fingers crossed for you, Kendrick.
Check out the entire Gen Why series and other videos on Facebook and the Bustle app across Apple TV, Roku, and Amazon Fire TV.