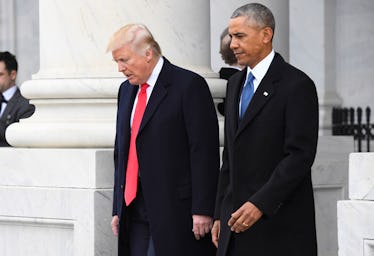 Donald Trump's White House Resignations Vs. Obama's Will Blow Your Mind
Pool/Getty Images News/Getty Images
When it comes to White House staff, there's been such unceasing upheaval going on that it's honestly hard to keep up with. In just over a year, officials have been leaving their positions in record-breaking numbers like we've never seen before. So of course, that makes me curious of just how bad it is in comparison to Barack Obama's administration. The answer? There's a major difference. So here are President Donald Trump's versus Obama's resignation rates because the differences are truly wild.
This is all more relevant now than ever, because two White House officials have resigned from their positions in less than a week. On March 6, Trump's top economic adviser Gary Cohn resigned from his position in the White House, making him the 19th person to leave the White House. Cohn's resignation comes just under a week after Hope Hicks resigned, the fourth communications director to serve under the Trump administration, left her post. Though she claimed she left her position to pursue other opportunities, she resigned just a day after a grueling testimony to the House Intelligence Committee, in which she claimed that her job sometimes required her to tell "white lies." At this point, the resignations are flying like flapjacks and in rates I really don't remember occurring while Obama was in office, but is it really as bad is it looks?
Well, yes. According to a study from the Brookings Institute published in mid-January, in his first year in office Trump's staff turnover rate was a full three times what Obama's was. Here are some of the highlights.
Obama lost at least five staffers in his first year in office.
Though Trump lost his first staffer within months of being in office, so did Obama. However, most of the people who left the Obama administration resigned from their positions. The first to go was Ellen Moran, who resigned from her post as the White House's communications director in April 2009 — just three months after Obama's inauguration. According to The New York Times, sources close to the White House chalked up the resignation by simply saying, "it wasn't a good fit." But the comment is much different than the reasons other staffers under Obama resigned from their positions: special adviser Van Jones resigned after heavy criticism of his radical past, which included links to 9/11 conspiracy "truthers"; White House counsel Greg Craig left his post in the midst of criticism of how he failed in closing Guantánamo Bay within a certain time limit; Phillip Carter, an official for the Pentagon, left abruptly for "personal reasons"; and Melissa Hathaway resigned after failing to appoint a cybersecurity coordinator to protect the nation from outside threats.
The resignations seem like legit reasons for leaving office, and are even commendable (kind of) seeing how the officials took responsibility for themselves.
Compared to Obama, Trump has lost tons of staffers so far.
Since Trump took office in January 2017, a full 19 White House officials have departed from their positions, 16 of which were resignations, according to Business Insider.
And there's been a lot of controversy that came with those departures: Anthony Scaramucci, the third communications director and predecessor to Hicks, stepped down after launching profanity-filled attack against then-chief of staff Reince Priebus in an phone call with Ryan Lizza of The New Yorker; Steve Bannon, who once served as the White House chief strategist, reportedly left office following tensions between him and other office advisers (though reports varied on if he resigned or was fired); and Sean Spicer, ex-communications director, resigned from his position after Trump brought in Scaramucci, reportedly due to his dissatisfaction with Scaramucci's lack of political experience.
All the resignations don't take into account those Trump has fired, either. In May of 2017 the president fired former FBI director James Comey, supposedly for mishandling the Hillary Clinton email investigation. There's also Preet Bharara, United States Attorney for the Southern District of New York, who was reportedly fired after refusing to quit; and Sally Yates, then-Deputy Attorney General after she failed to defend Trump's travel ban.
With the most recent departures only being days apart from each other, there's no telling who will be the next to leave or how soon they go.
"There is a burnout phase."
Though Trump and Obama have both seen their fair shares of departures within the first year of their presidencies, it's really not unusual for people to be leaving. Anita McBride, who served as a special assistant for the White House under the Bush administration said that it's standard to see so many people go. In 2014, she told The Huffington Post,
There is a burnout phase, and very few that remain an entire two terms. Either you have fulfilled what you can contribute to the overall agenda, you're just pure and simple tired, or financially you can't afford to do it anymore. Or, the president can no longer be confident that you are the best person for the job.
That said, maybe these numbers aren't so bad. But if Trump gets another term and these patterns continue, I'm gonna know that something isn't right.