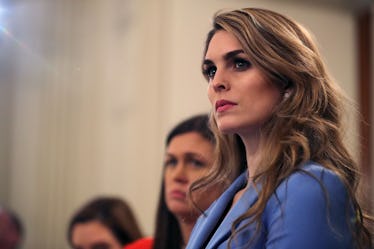 Everyone On Twitter Is Thinking The Same Thing After Hope Hicks' Resignation
Chip Somodevilla/Getty Images News/Getty Images
On Feb. 28, after news reports surfaced that claimed that Hope Hicks was resigning from her position in the White House, tweets immediately started to roll out online. The tweets about Hope Hicks resigning are trolling the White House so badly, because this administration just can't seem to keep staff, no matter who they hire. And they're all spot-on.
Hicks, a long-time White House adviser, is said to have been planning her resignation for months, citing that she felt she'd "accomplished what she could do" in her position as the White House's communications director. According to The New York Times, the news comes just a day after Hicks gave an eight-hour testimony, in which she admitted to telling "white lies" during her time in office. The resignation raises some eyebrows given that it happened just hours after her testimony, and even more because she's joined a list of other appointees who have either resigned or were fired since Trump took office in January 2017. Twitter users immediately hopped online to punch out tweets that joked about her resignation.
Twitter users are totally trolling.
Some Twitter users joked that Queen's hit single "Another One Bites The Dust" should serve as Hicks' theme song.
Others noted that Hicks will join a long list of other officials who have either resigned or quit since President Donald Trump took office.
According to CNN, over one in three employees under the Trump administration have left their positions in the president's first year, which several Twitter users pointed out. Hicks' resignation places her in ranks with other staffers such as Anthony Scaramucci, Sean Spicer and Mike Dubke.
Some even suggested that Hicks' resignation was due to the testimony she gave to Congress on Feb. 27 in reference to the Russia investigation.
On. Feb. 27, Hicks gave an eight-hour testimony to the House Intelligence Committee, telling investigators that she was occasionally required to tell "white lies" as a part of her job position, The New York Times reported. Hicks did say, however, that she had been truthful about matters related to Russia's probes in the 2016 election. But when asked similar questions about officials from Trump's campaign or the White House, she refused to answer.
Given everything that Hicks revealed (or didn't reveal) in her testimony, it wasn't too surprising to see Twitter users talking about how sketchy her resignation is.
Super sketchy.
Though some of us have our own theories for why Hicks chose to resign from her position, President Donald Trump praised her and the work she's contributed to his administration. He told the Times,
Hope is outstanding and has done great work for the last three years. She is as smart and thoughtful as they come, a truly great person. I will miss having her by my side but when she approached me about pursuing other opportunities, I totally understood. I am sure we will work together again in the future.
Hicks is the fourth communications director of Trump's presidency.
Hicks was first appointed to her position in August 2017 following the firing of then-communications director Anthony Scaramucci. Scaramucci served his position for only 10 days before he was fired for launching a profanity-filled attack against Reince Priebus, who was then serving as the chief of staff, in an phone call with Ryan Lizza of the New Yorker.
Before Scaramucci, Sean Spicer held the post while also working as the press secretary. However, when Scaramucci was brought in to take over the role as communications director, Spicer left. Reports at the time claimed that he was unhappy that the new director had little political communications experience.
In May 2017, the role belonged to Mike Dubke, who resigned after a three-month term. And before then, it had been offered to Jason Miller, who reportedly stepped aside to spend more time with his family just a few weeks before Inauguration Day. It's safe to say that it's been a long road for the Trump administration, and it doesn't seem like that's changing any time soon.
Though I can't say that the next appointee will stick, perhaps the fifth time's the charm? Or sixth? Maybe?