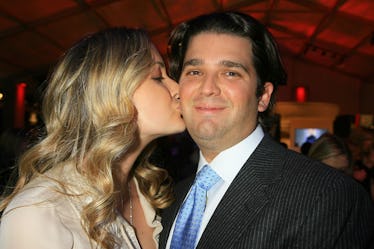 Trump Jr. Once Joked About Being At The Playboy Mansion With His Wife & I'm Out
Katy Winn/Getty Images Entertainment/Getty Images
There's a lot of things that the current presidency has taught us, one of them being that, at any moment, an interview featuring a member of President Donald Trump's family can resurface and cause eye-popping reactions. Take Donald Trump Jr.'s quotes about his wife, Vanessa, while they were at a party at the Playboy Mansion. Trump Jr. made the comments over a decade ago, during an interview with comedian and podcast host Adam Carolla, but those comments were the subject of a recent article from HuffPost's Ashley Feinberg, which unearthed the remarks despite the interview appearing to have been deleted from the internet.
During interview, which was first released in January 2007, Trump Jr. joked about being at the mansion with his pregnant wife.
"Do you believe the hell I'm going through? I'm at the Playboy Mansion with a pregnant wife! It doesn't get worse than that, does it? That's like a nightmare. Now, I love my wife, but that is rough. And I'm going to pay for these statements later on tonight. I'm gonna pay," Trump Jr. said.
The interview also, somehow, veered into a discussion about whether Trump Jr. "has a bigger package" than his father.
"You know, and I will get fired for this, but I'm never going to say that I don't. I will get fired for that," Trump Jr. answered. "By the way, they're both pretty substantial I think."
The 13-minute, decade-old interview stands out for a number of reasons. First is the very obvious fact that Don Jr. and Vanessa Trump are going through a divorce, which — let's face it — makes any joke about a pregnant wife look worse.
Then there's the fact that the interview shares a theme with other interviews of Trump Jr. and the elder Donald Trump. Both men have been the subjects of interview with show hosts who take take liberties in asking intrusive questions — and making jokes — about the appearance of the women in the Trump family. (Don Jr.'s 2007 interview with Carolla, for example, features comments about how Ivanka Trump is a "fox," which something you wouldn't expect to be brought up when you're talking to the woman's brother, but alas).
There's also the stunning similarities in which Don Jr. and his father speaks in interviews, seemingly looking to always charm the people in the room and keep the conversation going, even if an interviewer crosses what others would consider clear boundaries. For instance, during the 2007 interview, Trump Jr. is asked if he is attracted to his step-mother (Melania) while, at another point, Adam Carolla joked about Trump Jr. and Vanessa's marriage not being happy.
In retrospect, that might be one of the more prophetic things mentioned during the interview, given Don Jr. and Vanessa's recent split. In a joint statement shared with Elite Daily in March, the pair announced,
After 12 years of marriage, we have decided to go our separate ways. We will always have tremendous respect for each other and our families. We have five beautiful children together and they remain our top priority. We ask for your privacy during this time.
Reports of Trump Jr. and Vanessa's splits were closely followed by separates reports of an alleged affair between he and singer Aubrey O'Day. Elite Daily reached out to Trump Jr. and O'Day about the alleged affair, but did not hear back.
"When it started, they were very serious all of a sudden," a source claimed to Us Weekly. "He told her it was over with his wife, that they were separated and he didn't love her — all of that stuff … Aubrey fell for him hard. She thought they were going to be together for real."
Affair or not, Don Jr. and Vanessa's marriage does seem truly over now. Though, in the meantime, it looks as if they are still friendly.