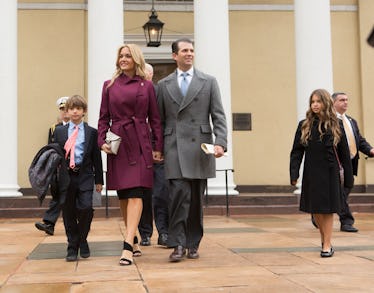 What's In Vanessa & Donald Trump Jr's Prenup Could Actually Be A Big Deal
Pool/Getty Images News/Getty Images
Now that it's been confirmed that President Donald Trump's eldest son is getting divorced, the question on the table is whether Vanessa and Donald Trump Jr. had a prenup. No one knows for certain that the couple signed an agreement about their financial assets before getting married in 2005, but it's highly likely. And what the terms of such an agreement entail could have big implications for the political family moving forward.
The New York Post's Page Six reported on March 15 that Vanessa Trump filed for divorce, after a 12-year marriage that resulted in five children. Vanessa Trump has also retained a criminal defense attorney for the divorce proceedings, the outlet reported. According to Page Six, it's likely she has a "cast-iron prenup."
"Prenuptial agreements and confidentiality agreements are in the Trump dynasty DNA," a divorce lawyer uninvolved in the case told Page Six, "so I would be surprised if Donald Jr. went into the marriage completely naked."
Vanessa Trump filed for an uncontested divorce, meaning there likely won't be any dramatic legal fights over who keeps what or what will happen to the children. But as the New York Daily News points out, "uncontested" doesn't mean there won't be any negotiations or disputes — it simply means that the couple has a window to arbitrate the terms of their divorce in private and that a judge hasn't yet been assigned to the case.
In fact, money was rumored to be what provoked or contributed to the decision to divorce in the first place. Sources told Page Six that Trump Jr. "treats her like a second-class citizen" in their marriage, without much financial freedom. "He gives her very little help and has been keeping her on a tight budget," said one source. "She doesn't live a lavish life and can very rarely pick up a check at dinner." Vanessa Trump has denied this, though, with a spokesperson saying, "All of these claims are simply not true. Don and Vanessa have tremendous respect for each other and always have. The notion that she has had to rely on her family for assistance is absolutely false and utterly ridiculous."
Sources also told Page Six that Vanessa Trump had been looking into divorce lawyers even before her father-in-law won the 2016 election, but it seems that things have deteriorated since then. Recently, sources said, Trump Jr.'s constant traveling and social media activity were aggravating their problems.
But while the details have yet to be hashed out, there are some predictions for what the prenup likely entails. First, the Daily News speculates, Vanessa Trump is probably not seeking any claim to the Trump family business assets or anything related to the Trump Organization, which her husband now heads with his brother Eric.
Furthermore, the Daily News reports, while the couple was married in Florida, the state of New York doesn't recognize provisions pertaining to childcare. So, matters like custody and child support are still something that the couple will have to hash out even if their prenup already addressed this.
The terms of a prenup agreement also might have bearing on the FBI's investigation into the Trump campaign's connections with Russia prior to the 2016 election. The Trump Organization was subpoenaed by Special Counsel Robert Mueller, according to a March 15 report by The New York Times. This raised the question of whether and how Mrs. Trump could be brought into the investigation's scope.
"In theory, Vanessa could talk about what Donald Trump Jr. knew about the Russia investigation if spousal privilege doesn't apply," divorce attorney Joshua Forman told USA Today. If there's no confidentiality clause in a prenup, he added, "then once the divorce is complete, she could, if allowable by the law in the jurisdiction she is called to testify in, be compelled to testify." There's a lot of hypotheticals at play here and different ways this scenario might play out, the Washingtonian writes, but it's possible Mueller could compel her to speak about Trump Jr.
Adding to the stress facing the couple are other stories that have put their love life in full view of the public eye. On the same day as her divorce filing news broke, other revelations about the couple's love life came out. Also on March 15, former model Melissa Stetten shared via Twitter thread a series of exchanges she'd had with the president's eldest son, showing direct messages, tweets, and replies that appeared to be sent in November 2011, just after Vanessa had given birth. (A spokeswoman for Trump Jr. provided People a screenshot that showed the continued thread of the DM between the two, which the spokeswoman said shows the exchange was understood to be a joke.)
Things got worse for the PR side of Trump's relationship just a few days later, when, on March 19, reports surfaced that Trump Jr. also had an alleged affair with Danity Kane singer Aubrey O'Day, during the time that she was a contestant on Celebrity Apprentice in 2011. (In case you're not following the complex timeline here: The alleged affair would've been just a few months prior to the Twitter exchanges between him and Stetten, and around the time that Vanessa was pregnant with their third child.) Per sources, the affair continued into the early months of 2012. Elite Daily reached out to O'Day and Trump Jr. for comment on these allegations, but did not hear back.
How the divorce will proceed — and what that prenup might potentially contain, if they have one — could have big implications for the family and the Trump Organization.