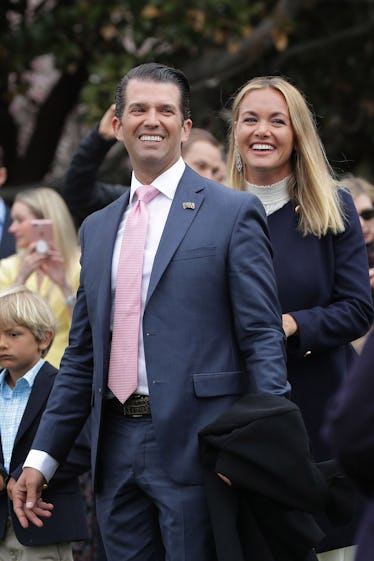 Donald Jr. & Vanessa Trump Reunited For The Easter Egg Roll, So That's Nice
Chip Somodevilla/Getty Images News/Getty Images
I guess it's true what they say: the holidays bring families together. Even if some of those family members aren't getting along, special days like the holidays are generally a time when everyone agrees to put their differences aside (at least for a few hours). So you might be wondering, were Donald Jr. and Vanessa Trump at the Easter Egg Roll, despite being in the process of a divorce? I could think of a few better ways to spend the holidays than rolling eggs along a grassy lawn at the White House with my ex husband... but to each her own, right?
By now you've probably heard that Trump Jr. and his wife Vanessa called it quits on March 15. Despite that, though, the couple seems to be keeping things pretty friendly. Both Trump Jr. and Vanessa were all smiles when they showed up at the annual White House Easter Egg Roll on April 2. Photos showed the pair all smiles as they watched their kids race to roll some eggs along the White House lawn.
The couple didn't only reunite at the White House, but apprently Trump Jr., Vanessa, and the children spent some family time together at the Mar-a-Lago in Florida over the holiday, according to People. After news of the divorce broke, the eldest Trump son took his kids to the resort alone, and then Vanessa met up with them later for the second week of the kids' spring break from school, the magazine reported.
After the Easter festivities Trump Jr. and his ex-wife were spotted chatting poolside while they watched their kids swim. "Don Jr. and Vanessa were leaning over the wall, just the two of them, talking, while the kids were in the pool," an observer told People.
The Easter family reunion is a little out of character for Trump Jr.'s family. A source explained to People that the estranged couple is doing their best to be friendly and co-parent their children. Though, usually, that consists of Vanessa and Trump Jr. mostly spending time with the children separately. The source said,
There are times that [Trump Jr. and Vanessa] are together with the kids. But more often, each is with some of the kids separately. I have not seen anything unpleasant at all.
Well, that explains all the solo adventures Trump Jr. has been posting with his children.
Ever since Page Six broke the news that Vanessa had filed for an uncontested divorce from her husband, Trump Jr. seems to have been taking it easy with his five children.
Over the March 23 weekend, Trump Jr. posted some photos of he and his eldest son, Donald Trump III, on a little fishing trip, where Donnie caught his first sailfish, according to a tweet Trump Jr. sent out ( a tweet that Vanessa just so happened to like...).
Don't worry: Vanessa took some time alone with her children too. On March 25, she tweeted some pictures of the youngest Trump kiddies, Spencer and Chloe, at the beach playing in the sand. Chloe's buried under a mermaid sand body and it's pretty much #goals. I wonder if Vanessa sculpted it because that's pretty impressive. Anyway, the caption reads,
I'm enjoying the beach with my two youngest Chloe and Spencer ! My kids are definitely beach babies!
According to the estranged couple, it was an amicable divorce. We may never know if that's true, or if there was actually a straw that broke the camel's back. But either way, there were children to consider and it looks like both Trump Jr. and Vanessa are doing their best to be good parents and make sure that, even amidst a divorce, they will come together for the sake of their children. Even if that means putting some smiles on while watching their kids roll eggs across the grass.