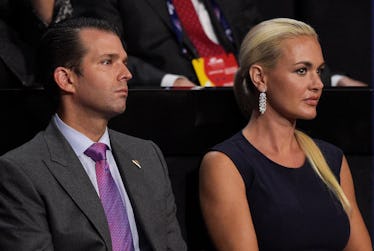 Vanessa Trump Is Still Liking Donald Jr.'s Tweets, So I Guess Things Aren't All Bad
Jeff Swensen/Getty Images News/Getty Images
Liking an ex's social media posts can sometimes just mean that you guys are on good terms, and casually liking a snapshot of his flight of craft beer doesn't mean anything. Maybe the same goes for White House offshoots and first family members? Because despite filing for divorce March 15, Vanessa Trump is still liking Donald Trump Jr.'s tweets. So, I guess they are staying friends, then?
According to his social media, Trump Jr. took a little fishing trip on the weekend of March 23. The eldest Trump son tweeted a link to his Instagram post about his trip, showing off catches from his buddies and young son Donald Trump III. One photo shows Trump Jr. and two of his friends holding a fish about the size of an adolescent child. (Impressive). Then there are a few others of son "Donnie," who apparently caught his first sailfish on the trip, fishing off the boat. The groups also caught some "mahi and skipjack," according to the post.
The full caption read,
Awesome day on the water with Donnie (Who caught his first sailfish and then followed that up with 2 others!!!) We went 15 for 19 on sails and caught some Mahi and skipjack as well. All sailfish released fast to grow bigger and make more.
There were over 5,000 people who liked Trump Jr.'s fishing tweet, and his soon-to-be-ex-wife Vanessa was one of them, as Cosmopolitan.com pointed out.
Does this mean that the couple did split amicably? Will they stay friends?Or maybe it was a butt like? That's totally a thing, right?
Honestly, it could just be that Vanessa liked the tweet because it was talking about their son, and Vanessa has always been known to be a devoted mother and care deeply about her children. In fact, her sister-in-law Ivanka Trump once called her a "Wonder Woman" for her devotion to her children.
And despite recent events, it looks like the kids are still most important. On March 15, Page Six reported that Vanessa filed for an uncontested divorce from Trump Jr., which means that she does not anticipate any fight or legal action over custody of their five children or assets. In response to the reports, the couple released a joint statement shared with Elite Daily in which they say that their five kids will remain their "top priority."
The statement reads,
After 12 years of marriage, we have decided to go our separate ways. We will always have tremendous respect for each other and our families. We have five beautiful children together and they remain our top priority. We ask for your privacy during this time.
So it looks like whatever is going on between the exes, they're making good on the promise to be there for their kids, both in person and on social media.
However, some new information has come to light that would suggest a not-so-friendly split, kids or no.
On March 19, reports emerged that Trump Jr. had allegedly had an affair with former Danity Kane member Aubrey O'Day, who he reportedly met on the set of Celebrity Apprentice Season 5 in 2011. Sources told US Weekly that the couple began their affair in 2011 and it continued into March 2012. Representatives of Trump Jr. and O'Day did not respond to Elite Daily's request for comment on the alleged affair.
Apparently, the alleged affair was a lot more that just a tryst. A source told Us Weekly that things between O'Day and Trump Jr. heated up pretty quickly and got very serious. The source claimed that Trump Jr. was even planning to leave Vanessa. The source reportedly said,
When it started, they were very serious all of a sudden. He told her it was over with his wife, that they were separated and he didn't love her — all of that stuff. … Aubrey fell for him hard. She thought they were going to be together for real.
Vanessa reportedly knew about the affair back in 2012 when she found email and text exchanges between her husband and O'Day. The couple already had three children, and Trump Jr. ended up calling off the affair, according to Us Weekly.
Maybe they decided to try and work things out. After Vanessa reportedly found out about the affair, the couple went on to have two more children.
Judging by the fact that Vanessa liked Trump Jr.'s tweet, I would say maybe the whole divorce is actually amicable, despite reports. Maybe all their differences had been set aside long ago, but they just didn't want to be romantically entangled anymore? No one really knows what goes on in someone else's relationship. But don't worry, I'll definitely be on the lookout for more social media interactions between the two.