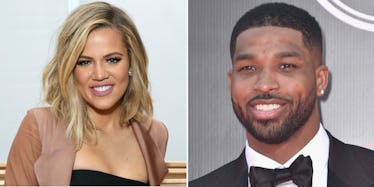 Tristan Thompson's Instagram About Khloé K For Valentine's Day Will Melt Your Heart
CINDY ORD/ALBERTO E. RODRIGUEZ/GETTY IMAGES
Khloé Kardashian and Tristan Thompson are going to be parents together very soon. This year marks their first and last Valentine's Day together before their little one arrives (reportedly sometime in March), and they're making sure we all know just how in love they are on this ~romantic~ day. Tristan Thompson's Valentine's Day message for Khloé Kardashian is short and sweet, and I'm loving all of it. Thompson tweeted on Feb. 14, "Happy Valentines Day my love," with the heart eyes emoji and a red heart emoji. On Instagram, he posted a photo of the couple kissing at a New Year's party last month saying, "Happy Valentine day my love ❤️😍 Btw I love the curly hair look 😈." Kardashian hasn't posted anything for Thompson on her Instagram or Twitter yet, but don't worry, guys. I'm sure that will come!
Kardashian posted about her and Thompson's relationship on her app on Tuesday, Feb. 13. In the post, she talked about how she knew Thompson was "the one" and how she carefully moved forward with their relationship after that. And she admits she was confident about her future with him early on in their relationship. She said,
My answer for this probably doesn't apply to everybody, but I knew Tristan was the one very quickly—I have never felt so comfortable or so safe with someone. Because of that, I took it very slowly and was cautious about how I went about 'us.' I made sure we had very in-depth conversations. I wanted to make sure that those conversations were backed up by actions.
This is surprisingly level-headed given the fact that she says she knew they would be serious really early on. But hey, when you know, you know!
Thompson posted on Twitter and Instagram in honor of Kardashian on Feb. 14.
The posts are hella adorable, and even though Thompson might not have an app on which he details how he fell for Kardashian, it's clear the feelings are mutual between these two.
Her caption for the announcement read,
My greatest dream realized! We are having a baby! I had been waiting and wondering but God had a plan all along. He knew what He was doing. I simply had to trust in Him and be patient. I still at times can't believe that our love created life! Tristan, thank you for loving me the way that you do! Thank you for treating me like a Queen! Thank you for making me feel beautiful at all stages! Tristan, most of all, Thank you for making me a MOMMY!!! You have made this experience even more magical than I could have envisioned! I will never forget how wonderful you've been to me during this time! Thank you for making me so happy my love! Thank you to everyone for the love and positive vibes! I know we've been keeping this quite but we wanted to enjoy this between our family and close friends as long as we could privately. To enjoy our first precious moments just us Thank you all for understanding. I am so thankful, excited, nervous, eager, overjoyed and scared all in one! But it's the best bundle of feelings I've ever felt in my life!
After Kylie Jenner confirmed her pregnancy and the birth of her daughter, Stormi, we finally had it confirmed that Kardashian and Jenner were pregnant together.
Her caption read,
Congratulations My Sweet Kylie! What a magical ride it's been! I'll miss you bumping along with me. Never in a million years did I think we would do this together but it's been that much more special because of it. God is so great!! He had His plan all along! I love you little mama 💕 love big mama
The Kardashian/Jenner family clearly has a lot of people to send love to this Valentine's Day, so I can't wait to see what Kardashian posts for Thompson.