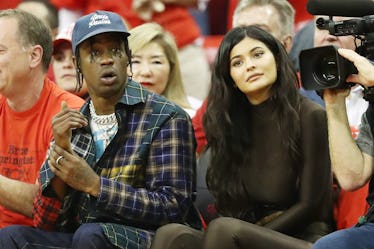 Travis Scott's Concert Shoutout To Kylie Jenner Called Her His "Wife" & I Have Questions
Ronald Martinez/Getty Images Entertainment/Getty Images
Very few things perplex me more than the ambiguous relationship status between Kylie Jenner and Travis Scott. Don't get me wrong — almost anybody who follows the Kardashian-Jenners as religiously as I do is well-aware of the fact that the two are in a very loving and passionate relationship. However, sometimes fans can't help but wonder if the two are secretly married. The rumor isn't totally outlandish, though, especially after Travis Scott called Kylie Jenner his "wife" during "Astroworld Fest." Elite Daily reached out to both Jenner's and Scott's representation for comment on whether they are married, but did not hear back at the time of publication. I seriously don't know what to think.
Several relationships out there in the world of love have major gray areas. For example, the world may never actually know if Riverdale co-stars, Lili Reinhart and Cole Sprouse are legitimately dating, or if Noah Centineo is really planning on proposing to Lana Candor. In the Jenner-Kardashian universe, though, the most perplexing relationship known to mankind is the coupling of Jenner and Scott. During the rapper's "Astroworld Fest" concert on Saturday, Nov. 17, Scott gave the mother of his baby an incredibly heartwarming shout-out. And while all was fine and dandy, Scott referred to Jenner as "my beautiful wife." Um, what? Did y'all elope behind my back? Was I not invited to the wedding? I'm very confused.
If you don't believe me, Jenner actually recorded Scott's entire highly controversial shout-out, and posted it to her IG story. It was reposted by one of the entrepreneur's fan accounts, @kyliesnapx, so make sure to check it out in the post, below. I know for a fact that you'll have so many questions after watching it.
OK for real though, who knows what these two are up to? If that highly questionable footage doesn't quite have you totally and utterly perplexed, keep in mind that this isn't even the first time the two have eluded to marriage. That's right — during the rapper's SNL music set on Saturday, Oct. 6, Jenner posted a video to her IG Story, referring to Scott as her "hubby." Elite Daily reached out to Jenner's and Scott's representation at the time for comment on if the couple is married, but did not hear back at the time of publication. Nobody really knew what to say, really, and all of her fans were completely shocked.
A secret marriage would be relatively unsurprising, however, as Jenner has a pretty solid track record for keeping her life happenings a secret. Until she gave birth to her and Scott's baby, Stormi, nobody knew if she was actually pregnant. She, her entire family, and all her friends managed to keep it under wraps until she was in labor, and if you think about it, her commitment to hiding it was so impressive.
Fans of the couple (myself included) aren't entirely sure if Jenner and Scott are dating, married, or if they're simply life partners. Regardless of what they are, though, labels don't actually matter in the end. All that matters is that the two of them are happy — and clearly, they are. So, cheers to the happy couple, and if the wedding hasn't already happened, I'm sincerely expecting a wedding invitation in the mail. Please and thank you.