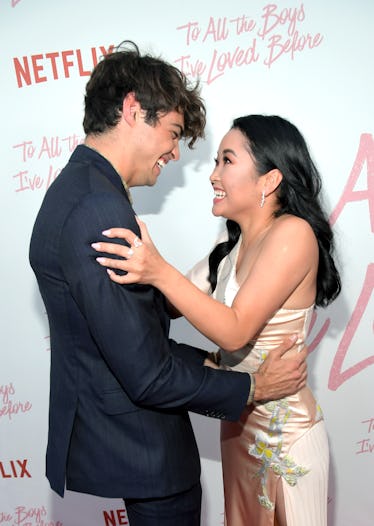 Noah Centineo Just Said He May Propose To Lana Condor, So Someone Ring Those Wedding Bells
Charley Gallay/Getty Images Entertainment/Getty Images
Hi, babe. I'm sure you're over there scouring the internet for clues or details on actors Noah Centineo and Lana Condor's relationship just like me. Hold on to your hearts, because I've got a juicy one for you. It's no secret Centineo and Condor basically adore each other, but the potential for a real-life romance has always remained just out of reach. So, you can imagine when Centineo told Cosmopolitan he might ask Condor to marry him my ears perked way, way up. Will Noah Centineo propose to Lana Condor, like, for real? Probably not. But, is it so much fun to think about anyway? Yeah, duh.
The truth is, Condor is already in a loving relationship with actor Anthony De La Torre. As for Centineo, he told Cosmo dating is not even on his radar right now. He also claims he avoids dating apps, too. "I don't participate," he said. "I would rather meet someone in real life." (Oh, someone like Lana, perhaps? Just saying!)
Centineo is well aware of how hard fans are shipping him and his To All The Boys I've Loved Before costar, but he's happy to just go with the flow. "It's all the same to me! I'm not upset about it," he said. "I may propose to Lana later this year, who knows? You heard it on Cosmo f*cking first."
Noah. Don't play games like that. It's not right.
In real life, Centineo is so busy working on new exciting projects, he's not... oh what's the term?... emotionally available to date right now. Sigh. "[Dating] has been non-existent," he said. "I'm working a lot. Keeping my head down and focusing and trying to take advantage of the opportunities that have come my way." Two of those exciting opportunities include a role in the Charlie's Angels reboot and the lead character in a new film called Valet.
The second film is about a valet worker who finds himself in a dangerous situation after taking one of the cars for a joyride. Centineo is pumped about the role and explained the casting story to Cosmo. He said, "It was given to me as a script and I was told, 'Hey, you're not quite at the right place in your career where you can do this, but we'd like you to aspire to do something like this [one] day.'" Instead, Centineo committed to landing this role. Reportedly, he called his reps every day and held as many meetings as necessary until he landed the part.
So, where does he find the time to craft his signature deep and thoughtful tweets while he's busy crushing the Hollywood game? According to Centineo, "It just happens! It just comes from the ether... I send them out right when I think of them!" A few recent examples include, "Truth is hidden but it does not hide," "compliments are still judgements," and "closed mind fields everywhere." Whatever any of that means.
Look, whatever this kid is selling, I'm buying. I'd prefer he actually propose to Lana, but I'll take an existential tweet from Noah any day.