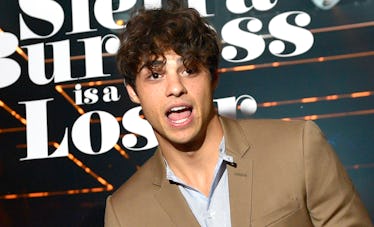 Noah Centineo Will Be In The New 'Charlie's Angels' Movie, So Get Ready For Him To Blow Up
Matt Winkelmeyer/Getty Images
After quickly becoming the heartthrob of every single person with a Netflix subscription, Noah Centineo has just landed is first major big-screen role... and no, it's not a high-school romantic comedy. Noah Centineo joined the Charlie's Angels reboot cast, according to a new report from The Hollywood Reporter, and he is going to be working with some pretty big names in the upcoming movie.
Unfortunately, we still have no clue what part Noah Centineo will play in the Charlie's Angels reboot. Centineo joins recent additions to the movie Jonathan Tucker (Westworld) and Sam Claflin (The Hunger Games), both of whom also have been cast in undisclosed roles. But not every actor in the upcoming movie is playing a mystery role — the reboot will star Kristen Stewart, Naomi Scott (Power Rangers, Aladdin), and Ella Balinska (Midsomer Murders) as the new trio of Angels. As for the other iconic franchise role, the new movie will split up the Angels' boss Bosley into at least three different people, played by Elizabeth Banks, Patrick Stewart, and Djimon Hounsou. Mexican actor Luis Gerardo Méndez has also been cast in a mysterious role known only as The Saint.
Being cast in the new Charlie's Angels reboot is a notable jump for Noah Centineo, who was best known for guest spots on Disney Channel shows and a three-season stint on Freeform's The Fosters before this summer. In the past few months, Centineo has exploded as one of the buzziest and most beloved actors of the moment. This is thanks to his one-two punch of Netflix rom-coms released back to back. Centineo starred as the male romantic lead Peter Kavinsky in the movie adaptation of To All the Boys I've Loved Before, and followed that up by playing the male romantic lead in another Netflix high-school rom-com: Sierra Burgess Is a Loser.
So for most of his fans, this new Charlie's Angels movie may be the first time that viewers have seen Noah Centineo move from the rom-com space and into action. Then again, we still do not know what role Centineo will be playing in the movie — there is a chance he will still be pulling his tried and true romantic moves as a love interest for one of the Angels.
The new Charlie's Angels movie is being directed by Elizabeth Banks, and written by Banks, Jay Basu (The Girl in the Spider's Web), Craig Mazin (Identity Thief), and Semi Chellas (Mad Men). Although best known as an actress, this will be Banks' second time in the director's chair, following her directorial debut on Pitch Perfect 2.
Along with multiplying the Bosleys, this Charlie's Angels reboot is also making another notable change to the franchise's classic setup. Instead of the Angels' security agency being a small, private venture, the new movie will expand the Townsend Agency into a worldwide security and intelligence service with various teams of Angels. Kristen Stewart, Naomi Scott, and Ella Balinska will play one team of Angels among a global force of operatives.
Charlie's Angels is slated for a June 7, 2019 release.