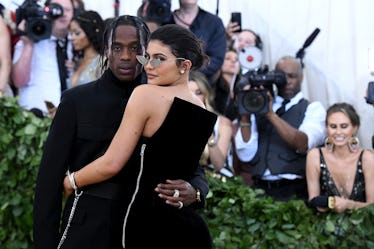 Kylie Jenner's IG Of Travis Scott On 'SNL' Has Me Asking If They Made A Major Relationship Move
Noam Galai/Getty Images Entertainment/Getty Images
You probably already know that TV personality and entrepreneur, Kylie Jenner, and rap artist Travis Scott have been in a committed relationship for quite a while now. They share a house, cars, and even a child named Stormi, at this point. To public knowledge, though, the two of them are merely boyfriend and girlfriend, and nothing more than that. However, on Saturday, Oct. 6, Kylie Jenner called Travis Scott her "hubby" during his SNL set, and fans are really, really confused. I mean, they aren't married yet, are they? TBH, I don't have a freakin' clue.
Scott was the musical guest on Saturday Night Live on Oct. 6, and if you didn't get a chance to watch it, you definitely should — he nailed it. Anyway, Jenner, being the sweet, supportive gal she is, recorded several clips of Scott's performance as she watched him on TV, and she posted them to her Instagram Story. While this is totally normal and super sweet, one caption in particular raised a few eyebrows.
In bold text over the video, it read,
hubby 😍😍😍
TBH, nobody knows how to take it. Are Scott and Jenner secretly married? Are they engaged? Real talk, I have no idea what to think. Elite Daily reached out to both Travis Scott's and Kylie Jenner's representation for comment and clarification of Jenner's post, but did not hear back in time of publication. Just take a look at the suggestive caption below.
OK for real... what does this mean? Does the entire Jenner-Kardashian clan know about this? I have so many questions, and very little time. Ugh, I need some chocolate. Maybe Jenner was just so into Scott's performance of his "Skeletons/Astrothunder Medley" that she didn't realize what writing "hubby" would do to all her fans.
Jenner fans are painfully aware of the fact that Kylie's really, really good at keeping secrets (she kept her ENTIRE pregnancy a secret). So, I don't know about you, but I really wouldn't be surprised if she secretly got hitched behind all her fans' backs. I'll reiterate that nothing is confirmed by any means, but I can (practically) already see it. Man, I feel so left out. No one tells me anything anymore.
The screenshot above is from another SNL clip Jenner posted to her Instagram Story. Don't think I didn't catch that drooling emoji, Kylie... get a room, lovebirds! JK, you two are cute.
If my theory about Jenner and Scott's secret marriage is incorrect, though, I won't be that surprised. Honestly, this wouldn't be the first time Kylie was misleading AF on social media. Back in September 2018, the reality star tweeted about her "first time" trying cereal with milk. She wrote, "Last night i had cereal with milk for the first time. life changing." Fans were floored, but a few weeks later, TMZ confirmed she had, in fact, tried cereal before, and fans even uncovered a photo of a bowl of cereal with milk on her Instagram from a few years back. So, I guess she lied about never eating cereal with milk? Maybe she had forgotten? Again, it's just one of those forever-unresolved mysteries.
Jenner and Scott are quite the power couple, and based on her IG Story, there's a chance they're married now? TBH, my theory is pretty unlikely, but my suspicions are running at an all-time high. I have my eye on you two.