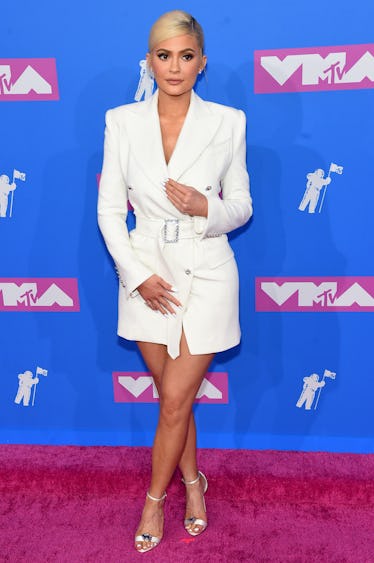 Some Fans Think Kylie Jenner Is Lying About Just Now Trying Cereal & Milk For This Reason
Jamie McCarthy/Getty Images Entertainment/Getty Images
Have you ever felt betrayed after learning something you thought was the truth turned out to be a lie? And then there was nothing and no one in this world that you could really trust, because everything you've ever known is now being questioned? Because that's precisely how I'm feeling currently after realizing that our girl Kylie Jenner may not have been telling us the truth about her recent milk and cereal experience. That's right, you guys. New ~evidence~ suggests that she perhaps might have already tried the breakfast staple years ago. So, is Kylie Jenner lying about trying cereal with milk for the first time? We simply must get to the bottom of this, because the fate of the world depends on it. (Please don't @ me for being overdramatic, because I don't care.)
Let's first dive into the 21-year-old beauty mogul's recent tweet about her VERY FIRST milk and cereal experience. Or so she says. The Keeping Up With The Kardashians star took to Twitter on Tuesday, Sept. 18 about trying one of my favorite early morning meals (and late night snack, because it is just that good): milk and cereal. Jenner claimed that her first experience with the breakfast item was a total game-changer. "Last night i had cereal with milk for the first time. life changing," she wrote:
I mean, she's certainly not wrong. Cereal has changed my life in many, many ways — almost all of them delicious.
But let's do a record scratch real quick here, because according to TMZ, Jenner HAS had cereal before... and there's seemingly evidence on her Instagram account.
WHAT DO YOU HAVE TO SAY ABOUT THIS, KYLIE?
Damn, you're sneaky.
According to TMZ, Jenner posted to Instagram on April 25, 2013, showing her fans a bowl that looks like — yep, you guessed it — MILK AND CEREAL. Elite Daily reached out to Jenner's team for comment, but did not hear back by the time of publication.
The picture appears to be a bowl of some type of bran flakes, with blueberries, strawberries, and, oh yeah, delicious, creamy milk. "He keeps me healthy," Jenner wrote as the caption, and, while we don't know who the "he" is in that statement, do we really care? No, because Kylie Jenner has done me dirty and now I'm salty about it.
Check it out and see for yourself. That looks like a bowl of milk and cereal if I've ever seen one:
TMZ notes that some fans are speculating that the bowl is filled with yogurt and not milk, but c'mon. Anyone who has ever had yogurt knows that it does NOT look that similar to milk.
Jenner also posted this photo to Instagram back in Feb. 2015 — but, to be fair, she *has* mentioned that she has had cereal before, but she eats it dry:
Fans even took to Twitter to call Jenner out on telling the truth about her first milk and cereal experience:
Honestly, I'm just having a hard time even putting these pieces together. What else might Kylie be lying to us about? What else is she not telling us?
I really don't think we know you anymore either, Kylie.
But hey, maybe we should give our girl the benefit of the doubt. Maybe it really was yogurt. Maybe she took the photo just for the 'gram, but never took a bite. Or maybe she's just an absurdly successful young adult who has already done so much in her short life that she literally just forgot about the one time she tried milk and cereal many moons ago.
The world may never know.