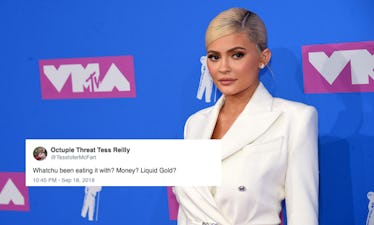 Kylie Jenner Just Tried Cereal With Milk For The First Time, So Twitter Is Losing It
Jamie McCarthy/Getty Images Entertainment/Getty Images
Sometimes, celebrities say or do things that truly make me feel like they are not these untouchable, immortal beings that I cannot relate to — like whenever Jennifer Lawrence trips and falls at an awards show, or whenever Chrissy Teigen does, well, pretty much anything. But let me be loud and clear when I say that Kylie Jenner is absolutely not one of those celebrities. At least, not with her most recent revelation that she dropped on her fans about a breakfast staple that she's never experienced before — cereal with milk. And honestly, Kylie Jenner's tweet about trying cereal with milk for the first time ever is actually kind of hilarious, and fans are living for it.
The 21-year-old Keeping Up With The Kardashians star and beauty mogul is an overachiever in many ways: she's an entrepreneur, a mom to daughter Stormi, and — oh yeah — is this close to becoming a billionaire. But there's something that Jenner has yet to experience while living on this earth, and that something is the deliciousness that is cereal and milk. Also known as the thing that is typically one of my daily meals (OK fine, sometimes even two).
Yes, you read that right: Kylie Jenner never experienced eating cereal with milk until Tuesday, Sept. 18, and honestly, I'm not sure if I should be mad or impressed.
Jenner took to Twitter to tell her fans about it, writing, "last night i had cereal with milk for the first time. life changing."
Do you see that, folks? Kylie Jenner tried cereal with milk for the first time ever.
Naturally, people had a lot of thoughts about this "life changing" event of Jenner's, and questioned why this simple breakfast meal had taken her so long to try. Of course, fans also joked about how exactly she ate her cereal before trying it with milk:
I won't lie to you, I'd absolutely try a box of Kardashios. Maybe if you have a bowl, your cheekbones immediately become contoured. Or you get to be on your own reality show. Or you instantly become a millionaire?
I digress.
Others on Twitter decided to keep the joke rolling, and gave Jenner some additional meal options that she perhaps hasn't tried yet (including actor Seth Rogen, who is no stranger to calling out other celebs on social media):
Ah, yes, ramen. Another staple in my household.
To be fair, Jenner tweeted shortly after to clarify that she has tried cereal before, just never with milk.
"I always liked cereal dry, I never bothered to put milk," she wrote, and I'm not sure that that helps or hurts her point, TBH:
And, if you want to know even more about Kylie Jenner's cereal habits than you already do now, she opened up something of a Q+A, answering fan questions about her cereal preferences.
"Cereal first," she responded to one fan who asked which item she puts in the bowl first:
And she (surprisingly) used regular milk, not almond milk, but wondered if she should "try almond next time":
The answer to that, Kylie, is no. I mean, almond milk is fine if you hate enjoying your meal, but I will always be a regular milk kind of girl.
Oh, and if you're wondering what cereal she went with, your girl did us proud. "Cinnamon Toast Crunch. amazing," she responded to one fan:
One of the top cereals out there, Kylie! Great choice.
On second thought, maybe Kylie isn't so different from us, after all.