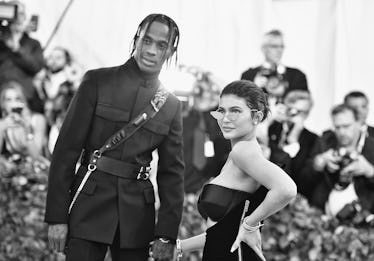 Kylie Jenner Just Shared The Sweetest Photos Of Travis Scott & Stormi At 'Astroworld Fest'
Theo Wargo/Getty Images Entertainment/Getty Images
I'm no relationship expert in any way, shape, or form, but in my personal opinion, one of the most pivotal parts of a healthy relationship is supporting your partner in anything and everything that they do. Kylie Jenner, for example, posted an incredibly encouraging message to social media about her boo's latest and greatest achievements, and IDK about you, but it totally made my heart melt into a giant messy puddle. So, if you haven't already taken a look at Kylie Jenner's Instagram of Travis Scott and Stormi at "Astroworld Fest," it's beyond supportive, and it definitely redefines #relationshipgoals.
On Sunday, Nov. 18, Kylie Jenner posted some totally amazing photos on Instagram of the father of her baby, Travis Scott, and there is even one of him kissing baby Stormi lovingly on the cheek. Per the Instagram caption, the photos were taken behind the scenes at Scott's "first festival," which, according to ABC 13, was a new one-day music festival in Houston, Texas helmed by Scott himself. The "SICKO MODE" rapper apparently coordinated it all by himself, inviting a wide variety of hip hop artists, from rapper vets like Lil' Wayne, to newer artists, such as Post Malone. So, it goes without saying that this was a huge accomplishment for him.
The IG photos themselves are super cute, and there's a pretty likely chance they'll give you all the feels. So, you should probably prepare yourself (and grab some tissues) before you check it out, below.
OK, for real, though, how adorable is this father-daughter duo? I don't think my heart can't handle much more of this... it might honestly explode.
Anyway, if you thought the photo itself was cute as heck, the caption will 100 percent tug at those heart strings. In the Instagram caption, Jenner got super sentimental about Scott's most recent efforts in putting on his first-ever music festival. She said that she's super proud of him for everything that he's accomplished so far, and that she really admires his integrity and determination.
In the Instagram caption, Jenner said:
only the people around you really know how hard you work. i love to watch you make all your dreams come true. your first festival. we're so proud of you. we love you 🖤
WOW, I love this. They're the ultimate power couple.
Jenner also posted several videos to her IG Story of Scott's performances. They were all awesome, so do yourself a favor and watch them all at least once (or like, a hundred times).
In addition to filming his performance, Jenner also posted a video of Scott giving "his beautiful wife and beautiful daughter" a heartfelt shoutout. Um, "wife'"? IDK if this means that these two are hitched, but I honestly can't with those two. Elite Daily reached out to both Jenner's and Scott's representation for comment on whether they are married, but did not hear back at the time of publication.
The passion between these two is pretty evident. In fact, they're pretty well-known for their romantic gestures. Earlier this month, for example, Scott surprised Jenner with a ton of red roses, and IDK about you, but I was so about it.
Jenner's support for Scott is so unreal, and if you couldn't tell, I'm obsessed with the two of them. If you need me, I'll be spending the rest of my Sunday eating chocolate, and endlessly admiring them from afar.