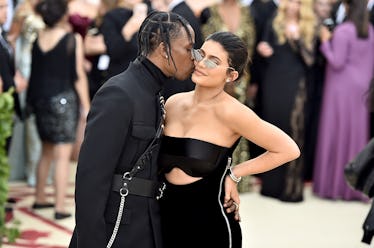 Travis Scott Surprised Kylie Jenner With The Most Romantic Gesture That'll Make You Swoon
Theo Wargo/Getty Images Entertainment/Getty Images
We all know the Kardashians are incredibly extra when it comes to buying flowers. Remember the amazing arrangement Khloe sent Kim to welcome Baby Chi to the family? You know, the massive, sculptural one that spelled out "Chicago" in pink roses? And just last month, Kanye surprised Kim with a whole bunch of deep fuchsia flower arrangements suspended from the ceiling in honor of her 38th birthday. Well, now, apparently, it's Stormi Jenner's dad's turn to turn up the floral action. And this video of Travis Scott surprising Kylie Jenner with roses is so ridiculously romantic that it will fill you with all the joy. Or, you know, make you totally jealous. Potato, po-tah-to.
Oh, and by the way, this isn't just some ring-up-your-local-florist-for-a-dozen-of-roses scenario I'm talking about here. I mean, from what we can see in the clip that Jenner posted to Instagram on Nov. 6, it looks like Scott filled the entire house with floral creations. There were artfully arranged red roses everywhere, you guys! I'm talking bouquets on bouquets on bouquets. They lined the white staircase and beautifully punctuated the living room, mingling with a whole bunch of flickering white candles that completed the dreamy mood.
Check it out:
"Hell of a way to end the night," Jenner captioned the clip. She also added a soundtrack to the video that featured Scott's song, "Hell of a Night," so I'm pretty sure this incredible display is from him.
Jenner also shared a couple of still images of the stunning florals on her Instagram story. Here's a view from the top of the staircase:
And here is her tricked-out living room:
So gorgeous and over the top! Can Scott be my boyfriend, please? Or does he at least have a twin brother or something?
Meanwhile, if the arrangements are actually from Scott, it wouldn't be the first time the rapper has gifted the makeup mogul with a house full of blooms seemingly for no reason. Remember when he gave the Keeping Up With The Kardashians star an impressive bunch of pink and white "just because" flowers back in October? If not, lemme refresh your memory with this video Jenner posted to Instagram:
"Just because flowers are the best kind," Jenner captioned the clip, which she shared with her fans on Oct. 15. "Thank u hubby."
And let's not forget the time back in August that Scott pimped out the yard with a hella impressive array of plump red roses:
"Woke up to a little fairytale 💕," Jenner wrote in the caption. "Thank you baby @travisscott."
Scott also surprised Jenner with hundreds of red roses — 443, to be exact! — after she gave birth to their beautiful baby, Stormi.
"443 from my ❤ a few days ago," Jenner wrote on her Instagram Story at the time. "The time she was born 😊." That's right, you guys — Stormi was born at 4:43 P.M. on February 1, which makes Scott not only generous and romantic, but also ridiculously sentimental.
And if that is not total "hubby" goals right there, then I don't know what is.