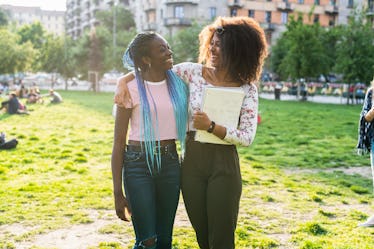 4 Small Gestures To Show Your Partner You Love them Unconditionally
Growing up, my father would always say, "Actions speak louder than words." Whether I was in trouble for singing at the dinner table or thinking about what to do for my mom's birthday, he would look down from his rimless glasses to remind that that sometimes, walking the walk means more than talking the talk. (Yes, he's a Virgo.) If your partner's love language is acts of service or you too feel like actions mean more than words, knowing some small gestures to show your partner you love them unconditionally can come in handy.
Unlike a lavish vacation to the Bahamas or coordinating a giant surprise party on a boat (which, TBH, sounds pretty sweet as well), small gestures are every day actions that can show your boo you care. A small romantic gesture can be anything from sending a sweet text before bed to helping your partner carry in the groceries. Although presents or trips can can be special ways to express your love, small gestures aren't about money or glamour. They're about unconditionally caring for your partner and taking some time to give them some love.
Here are four small romantic gestures that will show your boo that you love them unconditionally.