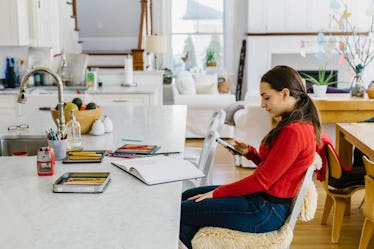 9 Newsletter-Worthy Texts To Send To Your Friends When You Finally DTR
So, you're officially seeing someone. It's exciting, but it may come with a to-do list — change your Facebook relationship status (Mark from Econ needs to know), call your mom, and upgrade from a twin bed (OK — this might just be me). But you may also want to let your friends know, which means the time has come to send a group text to announce you're officially dating someone. Your friends want to be kept in the loop, so for tips on how to craft these messages, I got you covered.
You'll want to send a text that lets your friends in on the excitement. Maybe they know the person you're seeing, or maybe they don't — either way, one thing is for sure: They want you to be happy. They also might have questions, particularly if they don't know your new partner well. Ideally, your text will be both clear and concise, while also expressing your enthusiasm and telling the whole story. This will help your friends get on the same page as you immediately, and share in your joy. You'll also don't want to alienate someone who has recently gotten out of a relationship, but not to worry — I have text tips on how to do that, as well.
Read on to find nine texts that'll let your friends know that you're officially off the market.