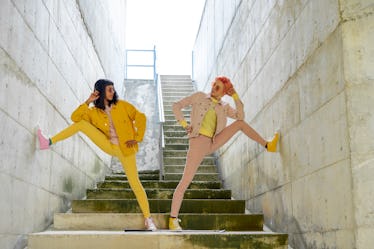 TikTok's #NotTheMainCharacter Trend Reveals The Side Role You Relate To Most
There's a reason why awards shows have categories for supporting roles. Side characters are just as essential to the storyline as main characters, despite giving the spotlight to their bestie. Just think, what would a TV show like Hannah Montana be without Lilly? Without Tai, Cher's antics in Clueless wouldn't have even existed. TikTokers are cheering on these characters in TikTok's #NotTheMainCharacter trend and also revealing the ones they connect with most.
TikTok's #NotTheMainCharacter trend is a response to the #MainCharacter trend that still circulates on the app. While that trend promotes unwavering confidence and Aries-like energy, this new trend hilariously calls out other specific personality traits. TikTokers are comparing themselves to the sassy best friend, the villain who despises children, or the cool little sister. Each video is put to an audio clip called "DANCING QUEEN" by @owen_kelley10. The clip pulls from a scene in Mamma Mia! when two side characters spark an iconic dance number. (Seriously, we owe these characters everything.)
To try out TikTok's #NotTheMainCharacter trend for yourself, you first need to decide what "role" you connect with the most. If you can't think of one right off the bat, it may be helpful to think about your favorite TV shows and movies, and look up their cast lists. You can also watch these videos for some inspiration, light sarcasm, and quality entertainment.