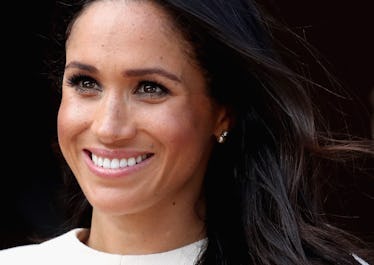 Meghan Markle's Dad Says She Looks "Terrified" Now That She's A Royal & Can He Please Stop?
Chris Jackson/Getty Images Entertainment/Getty Images
The drama continues between Meghan Markle, Duchess of Sussex, and her father, Thomas Markle. Her estranged father recently gave an interview to The Sun where he claimed his daughter appears to be faking happiness to appease her new royal family. Thomas Markle's comments about Meghan Markle looking "terrified" don't quite add up to the truly blissful happiness she and her husband have exuded since their engagement announcement back in November 2017. Originally, it appeared Meghan and her father were working out their differences before the royal wedding despite that weird staged-photos scandal. But then, it all took a bizarre turn when Markle did a tell-all interview with Piers Morgan in June. Clearly, the tension has been snowballing.
In his interview with The Sun, Markle said it's clear to him Meghan is not comfortable in her new role as the Duchess of Sussex. "My thing about my daughter right now is that I think she is terrified," he said. "I've seen her smile for years. I know her smile. I don't like the one I'm seeing now. This is a pained smile." As a former TV lighting director, Markle claims he can distinguish a "staged" smile from a "pained smile" and his daughter has been delivering the latter. According to Markle, there's a "high price to pay" marrying into the royal family and he fears Meghan might be under too much pressure. Elite Daily reached out to Kensington Palace for comment on Markle's remarks, but did not hear back by the time of publication.
In a curious plot twist, the commentary comes right after Kensington Palace shared gorgeous pictures of Meghan and Prince Harry, Duke of Sussex, celebrating their new nephew's christening.
Yup, look how "miserable" Meghan looks.
I'm sorry, did I say "miserable?" I meant "fitting in like a glove."
In fact, I did some digging and found more photos of Markle hanging out with the royal gang. Let me know what you think.
Here she is having a "terrible time" at Wimbledon with her sister-in-law.
This is her choking down an interaction with a horrific animal during an awful trip to Ireland.
Here she is begrudgingly meeting her new fans.
Oh yeah, plus that horrible wedding she and Prince Harry had. Ugh.
Yup. Sure seems like she hates everything...
Wait a minute. That was a joke.
Meghan's personal happiness doesn't seem to be the only problem Markle has with her new life. He also has feelings about the traditions and protocol of royal living. He told The Sun the royal dress code is "ridiculous" asking the questions, "Why in 2018 are we dressing like the 1930s? Why do they have to cover their knees?" According to Markle, his daughter is "in deeper than I am," and by that, I suspect he is referencing his staged photos scandal.
Prior to the wedding, Thomas posed for "paparazzi photos" researching his daughter and the royal family. Reportedly, he was paid £100k for the setup. In a statement to TMZ, Thomas claims he posed for the pictures in efforts to change his public image. Now, he's paying for it. He told The Sun,
The reason I am being shunned is because I made a profit on the staged pictures. Anyone who makes a profit off the Royal Family becomes shunned, but I could have made well over $100,000 by just doing a talk show... So if I moved to London and started selling cups with my daughter's face on, would they shun me? The Royal Family is living by rules that are outdated.
I gotta be honest Tom, (can I call you Tom?), it sounds like you're the one that's unhappy. Meanwhile, Meghan is over in the UK like this:
Ah, yes. The painful smile of a happily married princess.