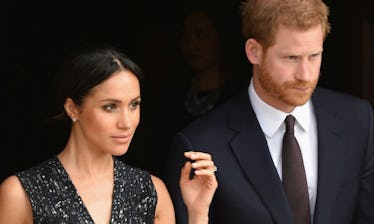 Here's How Meghan & Harry Reportedly Reacted To Her Dad's Interview & It's So Sad
Jeff Spicer/Getty Images
Meghan Markle, Duchess of Sussex, is dealing with some more family drama, y'all. As you might already know, some of Meghan's family have been less than subtle in regards to speaking to the press about the newly-wedded royal. And now that Meghan is happily married to Prince Harry, Duke of Sussex, it doesn't seem like her family is putting an end to speaking out anytime soon. The most recent member to open up to the public once more about Meghan is her father, Thomas Markle, who decided to do his first TV interview on Monday, June 18. The royal couple was reportedly unaware about this appearance, and Meghan Markle and Prince Harry's reaction to Thomas Markle's interview proves they were just as surprised as the rest of us to hear what he had to say.
Appearing on a live interview with Good Morning Britain's Piers Morgan and Susanna Reid via satellite, Markle candidly spoke about his daughter and his new son-in-law, Prince Harry, as well as bringing up the staged paparazzi photos that occurred right before the royal wedding. A source told Entertainment Tonight that Meghan and Prince Harry had absolutely no idea that Markle would be interviewing on live TV. The source said,
It came as a surprise. They were not given advanced warning. They understand he has been harassed by the paparazzi 24/7 but it's hard for them to accept his apology when he's again taking cash.
Elite Daily reached out to Kensington Palace for comment on this report, but it declined to comment.
The source continued, saying, "Meghan loves her father deeply and Harry and Meghan have tried to offer him support and guidance adjusting to the media attention. But the relationship is fractured and it will be interesting to see where they go from here."
I can understand why their relationship may be strained, especially after something like this, but it's still super sad to think about.
The fact that Markle was paid for the interview also seems to strike a chord, mainly because Meghan Markle had a similar reaction upon realizing that her father was paid for staged photos. A source told Us Weekly that Markle was "upset and disturbed" by her father's actions and was hoping to just "move past" the entire ordeal. Elite Daily reached out to Kensington Palace for comment on this report, but did not hear back by the time of publication.
Entertainment Tonight spoke directly with Morgan, who confirmed that Thomas Markle was compensated for the interview, but said that that's not why Markle chose to appear on live TV. Morgan said,
Well, it was a small amount of money, a few thousand pounds. He was offered stratospherically lots more money by different media organizations. He could've made a lot more money doing what he wanted to do.
Morgan added, "It wasn't about money for him, you can tell that. The real motivation was setting the record straight, having his say."
Morgan also explained that Markle approves of Prince Harry, saying that Markle "was very keen in the interview to be very praiseworthy of Harry," adding that he had nothing but good things to say about the prince. "He said, 'I like him, he's a gentleman and he protects Meghan, and I really value that.'"
The interview also touched on a few more personal subjects, like how Prince Harry asked for Meghan's hand in marriage (yep, Prince Harry called Markle for permission), as well as Markle's regrets about not walking his daughter down the aisle on her wedding day. He said,
The unfortunate thing for me now is that I'm a footnote in one of the greatest moments in history rather than the dad walking her down the aisle. That really upsets me somewhat.
Even though Thomas Markle conducted this interview without checking in with his daughter, I hope that these two can work things out regardless. Fingers crossed for one big, happy, royal(ish) family.