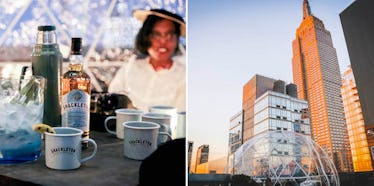 This Wintry Whisky-Inspired Pop-Up Has Heated Ice Huts & "South Pole Pizza"
That iconic line from Game of Thrones is very real right now. With snow on the forecast, and the weather getting too cold to not head outside wearing multiple layers and a beanie, it's safe to say that, "Winter is coming." You wake up in the morning, and struggle to leave your cozy blankets behind. I mean, having fun experiences and making memories is a sweet deal, but baby it's cold outside. Ugh, what gives? Well, the latest on my radar might change your mind and score you some pretty cool #content. This wintry pop-up at the Arlo Hotels in New York City should be your next adventure. (Trust me, it's worth bundling up in another scarf and embracing the most wonderful time of the year.)
Leave it to The Big Apple to always give you a reason to 'Gram. From the artsy murals on the sides of buildings, to the grand skyscrapers — there's always an opportunity to get a few shots. You walk down the sidewalk and often fill your camera roll with snaps of your iced coffee, or the mannequins that are being rolled down Madison Avenue. In that moment, everything feels like a movie.
But, if you live or work in the home of Carrie Bradshaw, you know that it's not always what it seems on social media. The subways aren't that glamorous, the taxi cabs pass by your lens in a flash, and the chaos of Times Square isn't necessarily worth the picture. That's when you start seeking out new, unique adventures and experiences.
Arlo Hotels and Shackleton Whisky have paired up to create a one-of-a-kind pop-up like this. With "South Pole Pizza" and heated ice huts, it will be the first thing on your winter bucket list. (Just don't forget to throw on that extra blanket scarf, OK? It's going to be toasty, but your #content could always use the cozy additions.)
What is the Arlo Arctica pop-up in New York City?
So, what's the deal with the Arlo Arctica pop-up? Let's get right into it, because you won't want to miss a second of this winter wonderland adventure and what's waiting for you social media-wise.
According to the press release via Arlo Hotels and Shackleton Whisky, this pop-up is an experience designed around the story of explorer and legend Sir Ernest Shackleton and his Antarctic expedition of 1907. With cozy and heated ice huts, fireplaces, and exclusive cocktails on the menu, this immersive experience is worth checking out with your bestie this winter. Just know that snow flurries every hour on the hour, and Shackleton Whisky, will be on the forecast.
What can you expect during your experience?
This wintery escape is all about adventure, getting social, and scoring sweet #content for the 'Gram. Upon arrival, you can expect to see cozy fireplace set-ups and ice sculptures. At Arlo NoMad's rooftop bar and Arlo SoHo's Courtyard, there will be heated ice huts and lots of blankets for you and your bestie.
Both hotel locations will feature a speciality menu built around the entire experience. Some cocktails on this menu will include: "88 Degrees South," made with lemon, lime, and Angostura bitters, and the "Royds Toddy," made with made with Earl Grey tea, cloves, and lemon. Grab a drink and then explore the venue for some "South Pole Pizza." (That's right. There's pizza at this event. *Instantly sold.*)
When all is said and done, you and your bestie will be toasting to a day well-spent from the comfort of your ice hut, with a slice of pizza in hand. What more could you ask for this winter?
When and where can you participate in this cool experience?
This experience is one-of-a-kind, which means that you need to be on board with the details — like, right now. Here's the situation: This adventure in the city launched on Nov. 9 at the Arlo NoMad hotel. The ice huts at the rooftop bar, The Heights, can be reserved (They're going to go fast!) and include unreal views of the skyline. Simply email them or give them a call to place a reservation. And if you're not looking to reserve one of the ice huts for the entire night, then the bar and terrace are open every day from 5 p.m. to midnight.
The pop-up will also be available at the Arlo SoHo hotel as of Dec. 1st, where greenhouses will get transformed into enchanting ice huts. Both events will run through March 2019. So, you have plenty of time to get there for the ultimate 'Gram.
What kind of Insta-worthy pictures can you snap at Arlo Arctica?
Ice huts and pizza that's inspired by the South Pole already sounds pretty picture-perfect to me. But, like any event or pop-up in the city, you have to capture those moments and share them to social media. I mean, do you really want your followers to miss out on the cozy golden hour you're going to experience? I didn't think so.
At the Arlo Arctica pop-up, you can grab pictures of your unique cocktails by the fireplace, or the decor in your heated space. Put your feet up next to your bestie's and throw some blankets on for a particularly warm and inviting shot.
Although you may already have a million pictures of the Empire State Building on your phone, take a couple more from this new and adventurous angle. Getting some creative inspiration? Perfect, because winter is basically here and this event is totally Insta-worthy.