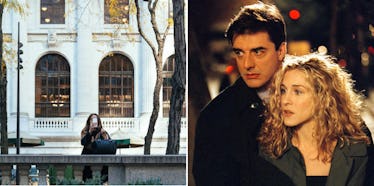 8 'Sex And The City' Locations In NYC For Only True Carrie Bradshaw Fans To Visit
Can we just be Carrie Bradshaw, now? Between the designer shoes and bustling life as a writer based in The City That Never Sleeps, you've decided that channeling the iconic character from Sex and the City is a dream. She ran around The Big Apple with her besties, and navigated love affairs. There are the shopping trips, conversations over cosmos, and not-so perfect dates, too. You want to find your own Mr. Big, or run an art gallery. Unfortunately, the franchise ended a while ago. But, you can still check out the Sex and the City locations in NYC, in your cutest dress and heels, of course.
First, you'll want to gather your girl crew and spend a weekend in the city. If the show has taught you anything over the years, it's that memories are always sweeter with your day ones by your side. These girls are the Mirandas to your Samantha, and always keep you updated on the latest gossip and good news. They've been there for all of your relationships and bad hair days, and understand your love for wearing cute outfits to the trendiest restaurants and clubs. (Has anyone seen my Manolo Blahniks?)
Together, you sat on your couch and watched endless episodes of SATC, and fell in love with Sarah Jessica Parker. You dreamed about moving to New York City one day, and recreating your favorite scenes from the beloved show. For now, you'll just scope out these eight locations, like a true fan of Carrie Bradshaw.