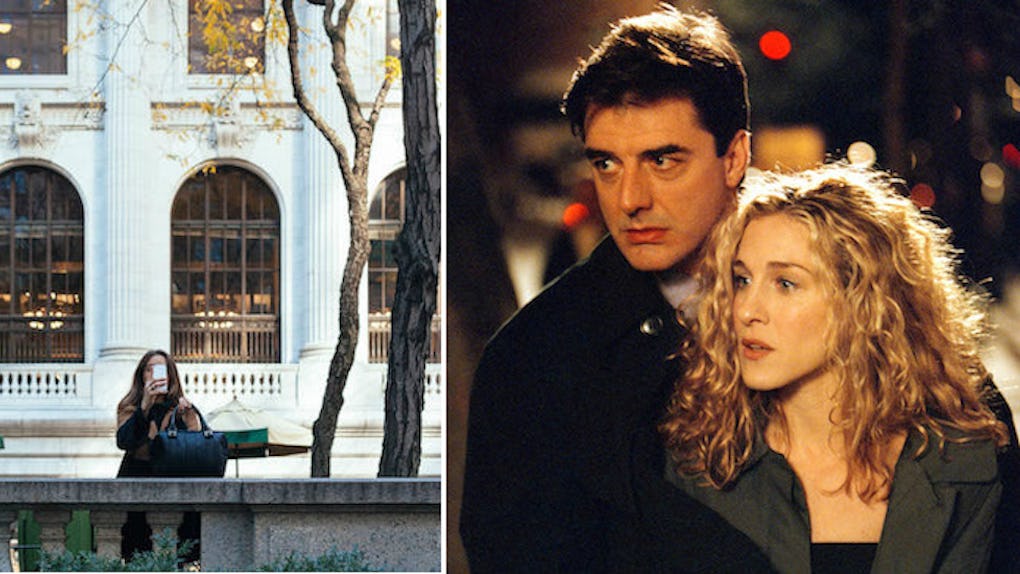 Good Vibrations Images/Getty Images/Getty Images Entertainment/Getty Images
8 'Sex And The City' Locations In NYC For Only True Fans Of Carrie Bradshaw
Can we just be Carrie Bradshaw, now? Between the designer shoes and bustling life as a writer based in The City That Never Sleeps, you've decided that channeling the iconic character from Sex and the City is a dream. She ran around The Big Apple with her besties, and navigated love affairs. There are the shopping trips, conversations over cosmos, and not-so perfect dates, too. You want to find your own Mr. Big, or run an art gallery. Unfortunately, the franchise ended a while ago. But, you can still check out the Sex and the City locations in NYC, in your cutest dress and heels, of course.
First, you'll want to gather your girl crew and spend a weekend in the city. If the show has taught you anything over the years, it's that memories are always sweeter with your day ones by your side. These girls are the Mirandas to your Samantha, and always keep you updated on the latest gossip and good news. They've been there for all of your relationships and bad hair days, and understand your love for wearing cute outfits to the trendiest restaurants and clubs. (Has anyone seen my Manolo Blahniks?)
Together, you sat on your couch and watched endless episodes of SATC, and fell in love with Sarah Jessica Parker. You dreamed about moving to New York City one day, and recreating your favorite scenes from the beloved show. For now, you'll just scope out these eight locations, like a true fan of Carrie Bradshaw.
1. Magnolia Bakery
Every true fan of Carrie Bradshaw needs to stop for a cupcake. You and your girls will be slaying the style game all over the city and touring the sights. So, a quick bite of something sugary from Sex and the City will be a good place to start.
Magnolia Bakery, located on 401 Bleecker St. in New York City, is where Miranda and Carrie eat cupcakes and talk about crushes. Aidan comes into the picture, and Mr. Big becomes a shoe from last season. Be sure to order something with pink frosting to truly recreate the scene.
2. Manolo Blahnik
Amongst all of the designer clothes and shoes that made an appearance on the show, Manolo Blahnik is arguably the most iconic. Carrie was known for her closet, and one day you hope to have racks of puffy skirts with lots of tulle, too.
During your weekend in the city, you'll likely walk down Madison Avenue and see Barney's or Bloomingdales. Shopping is a crucial part of any trip, especially when you're in such a fashionable city. But, stopping to look at the lovely shoes at the Manolo Blahnik store in Manhattan will be a must. Fall in love with a pair of heels for me, OK?
3. The New York Public Library
Some go to the New York Public Library to check out a book. But, Carrie Bradshaw believes it's a place to say, "I do." She thought that one day her and Mr. Big would get married there, and start an entirely new chapter of their love story. (See what I did there?)
In The City That Never Sleeps, it seemed like the girls were constantly flipping pages and finding new love affairs. Now, I don't want to slip any spoilers, just in case there are some new fans of SATC out there. So, consider the library a must-see, and then we'll move on.
4. Yankee Stadium
In the land of Sex and the City, dating is like a baseball game. You hope that life will give you a sweet pitch (or pitcher), and that you'll slide effortlessly into first. One day, you'll hit a home run and find your soulmate. But, you're bound to strike out a bunch before that happens. (Ugh, Carrie Bradshaw understands your struggle.)
All puns aside, though, Miranda takes Carries to a Yankees game after her breakup with Mr. Big. She unexpectedly meets a player on the team after catching a ball in the crowd. Head to Yankee Stadium, and cross your fingers that the same will happen for you.
5. The Paris Theatre
Paris is often known as "The City of Love." But, not everybody is trying to hop on a plane and go across the pond. Especially if you're a true fan of Carrie Bradshaw, you'd rather hit up the Paris Theatre in the city before talking French in a café with a croissant.
This spot is where Carrie spent a night indulging in film instead of friendships. She put her cosmos and chaotic relationships aside for a different story, and you could do the same. Located in Midtown, you'll want to catch a viewing of an independent or foreign movie before doing anything else.
6. The Plaza Hotel
Have you heard of The Plaza Hotel? Of course, if you're a true fan of Carrie Bradshaw! She ran into her former lover outside of this iconic piece of New York City architecture, in a moment that made you gasp. Now, you'll be standing outside the building, and posing for pictures with your girl crew. (Carrie wouldn't want it to be any other way.)
Turns out, Mr. Big was due for a wedding, and hosting his own engagement party to someone else. When you were watching, you wanted to jump through the screen and tell Carrie that everything would be OK. *Grabs tissue and learns another lesson about love.*
7. The Loeb Boathouse
Try not to fall in the lake when you go to the Loeb Boathouse, OK? This is the spot where Mr. Big and Carrie shared lunch (but not a single kiss, let's be clear about that). He leaned in to kiss on the cheek, and she completely dodged it. The consequences were rather wet, though.
Located in Central Park, right along the water, you and your girls will want to grab a bite to eat at the express café. Let's be honest: Seeing all of these Sex and the City sights gave you quite the appetite.
8. Da Marino
Last but not least, is Da Marino. This quaint Italian eatery is the restaurant where Mr. Big sings on the reg. During a rather fancy and romantic dinner with Carrie, he gets up and grabs the mic, filling the room with the music of Frank Sinatra. (Can somebody please take some notes on this one?)
I can't promise that anyone will serenade you during your meal, but if you're a true Carrie Bradshaw fan, this place will be a must. Make a reservation and then roam around Times Square. In this moment, if a taxi cab splashed you, you may not even care.