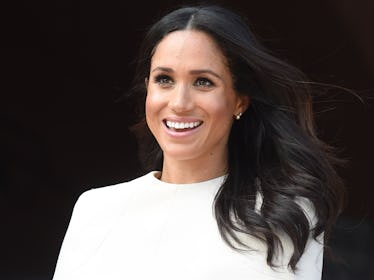 Meghan Markle Tripped At A Wedding With Prince Harry & Her Recovery Was Truly Royal
WPA Pool/Getty Images Entertainment/Getty Images
Meghan Markle, Duchess of Sussex, graceful as she may be, is just like any other woman when it comes to walking on grass in high heels. It's just as annoying and impossible for her as it if for us, and this video of Meghan Markle tripping at a wedding with Prince Harry will make you say, "Mmmm, been there, girl." The Duke and Duchess of Sussex attended the wedding of Princess Diana's niece/Harry and William's cousin, Celia McCorquodale, and her fiancé George Woodhouse on Saturday, June 16.
Videos and photos from the wedding have now surfaced, and there's one video that shows Meghan and Harry walking through a field at the wedding (looking amazing, as usual). While walking, Meghan's high heel plunges into the grass, making her trip a little bit, and it brought me back to my college years when I would stupidly think I could walk through grass in high heels unscathed. R.I.P., my and Meghan's ankles. Luckily, Prince Harry was holding her hand already when she stumbled, so she was able to lean on him a bit, but the whole thing happened so fast. Blink and you could miss it.
The Duchess of Sussex is graceful AF.
How many weddings are Harry and Meghan going to be part of this year? The limit (probably) does not exist. Another of Harry's cousins (on his father's side), Princess Eugenie, is set to marry her longtime boyfriend Jack Brooksbank in the fall. They got engaged not long after Harry and Meghan did. Between their own wedding, McCorquodale's wedding, and Princess Eugenie's upcoming fall wedding, Harry and Meghan's 2018 is really the year of weddings for them.
He appeared via video on Good Morning Britain with Piers Morgan and Susanna Reid on Monday, June 18, to talk about his relationship with his daughter, his relationship with Prince Harry, why he couldn't attend the wedding, and lots more.
The entire interview ended up being around 30 minutes long, which is long AF when you think about it, and Markle dished on his side of the story when it comes to the staged photo incident that happened a few weeks before the royal wedding. Markle, in an attempt to "improve" his image in the public eye, had paparazzi take photos of him "researching" for his daughter's wedding in an internet café. The photos were revealed to be staged, and Markle touched on this in the Good Morning Britain interview.
He said he didn't get any money for posing for the photos, rather he did it in the hopes of changing public perception about him. He said,
I thought this would be a nice way of improving my look, but obviously that all went to hell. I feel bad about it. I apologize for it and that's all I can do. I can't do much about it. That was a mistake.
This ordeal, according to Markle, worsened a preexisting heart condition and led to him having a heart attack the week of the wedding. He ended up not being able to attend the May 19 wedding due to this heart attack.
Markle detailed Harry and Meghan's reaction to him not coming to the wedding, saying, "They were disappointed." He said, "Meghan cried — I'm sure — she did cry. They both said, 'Take care of yourself. We're really worried about you.' They said the important thing is that I get better."
Prince Charles of Wales walked Meghan part-way down the aisle in her father's absence, and Markle said he wouldn't have chosen anyone else to take his place. "I was honored," Markle said, "I can't think of a better replacement than someone like Prince Charles." He continued,
He looked very handsome and my daughter looked beautiful with him. I was jealous. I wish I had been there. I wish it'd been me, but thank god he was there and thank him for that.
Things seem to be fine between Meghan and her father now, but I imagine that she and Harry are going to be hella done with weddings by the time 2018 is over.