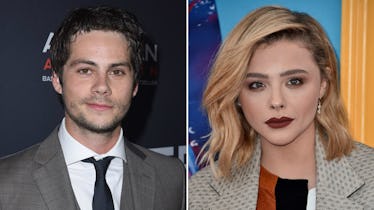 This Is Definitive Proof That Dylan O'Brien Has Had A Crush On Chloë Grace Moretz Forever
Vivien Killilea & Frazer Harrison/Getty Images Entertainment/Getty Images
Wait a second. A movie-worthy romance played out in real life by young heartthrob actors? It's too much! I can't take it! (Just kidding. Yes I can. Tell me everything.) Rumors suggesting actors Dylan O'Brien and Chloé Grace Moretz are dating just got that much sweeter. An old video of Dylan O'Brien professing his crush on Chloé Grace Moretz way back in 2011 is as prophetic as they come. Sure, he didn't realize how young she really was at the time, but fans forgive him. Teenagers, ya know? Today, they've been spotted out and about together giving some serious validity to O'Brien's young feelings back in the day.
On the 2011 MTV Movie Awards red carpet, O'Brien and his Teen Wolf castmates Tyler Posey and Crystal Reed caught up with Chelsea Briggs from Hollywire. After goofing around about what makes a Teen Wolf werewolf better than a Twilight werewolf, O'Brien launched into a lengthy shoutout to Moretz, seemingly unprompted. He very passionately exclaimed, "I want to give a special shout-out to Chloé Moretz because she is the most badass little chick that I've ever seen. What she did in Kick-Ass was amazing and I, and I have a crush on her." Briggs explained her work must have paid off, considering she was nominated for four categories that year, (and ultimately won two awards for Next Generation and Biggest Badass Star). O'Brien said, "Oh yeah, and she's great... very deserving."
Look at the lovefest starting around 0:55 in the video below:
In 2011, O'Brien would have been roughly 19 years old and Moretz was around 14. Oops. O'Brien later learned how young Moretz really was and needed to clear the air when Hollywire caught up with him again later. Host Chelsea Briggs prompted, "I have to bring this up. Last time we talked, you told me about a crush you had on Chloé Moretz... any updates on this one?" O'Brien was ready with his response.
Yeah, recently updated: I wikipedia'd Chloé Moretz and I saw how old she was. So I'd like to take that back and I'd like to retract and say that, uh, I think that Chloé Moretz is a very cute and talented girl. Uh, I don't have a crush on her.
Briggs wouldn't quite drop it, admitting after their red carpet interview they received a lot of comments about the two actors' age difference. "Yeah, see, I didn't even notice," O'Brien said. "I was just saying she was awesome in that movie."
Sure, sure. And, to be fair, she really was. Not to mention, it's actually pretty common for actors to play characters that are a lot younger than them on screen, so we'll give O'Brien a pass on that awkward slip-up. I assume Google has since become his friend.
Now it's a full seven years later, and both stars went on to have long-term relationships with other age-appropriate celebs. Dylan O'Brien started dating Britt Robertson back in 2012 after starring in The First Time together, though it's unclear where that relationship stands these days. Of course, Moretz has been in a serious on-and-off relationship with Brooklyn Beckham for a few years, though it looks like it's really over for the foreseeable future.
Despite these other relationships, fans think they spotted Moretz and O'Brien out on date night as recently as Aug. 7. The Blast caught a video of O'Brien and Moretz sneaking into the same car after a carefully orchestrated exit from The Nice Guy nightclub in Los Angeles. Reportedly, they carried on to a second location in Hollywood. Just for an age check, Moretz is now 21 and O'Brien is 26, which means it's more than OK for fans to ship these two.
All's well that ends legally. That's what I always say.