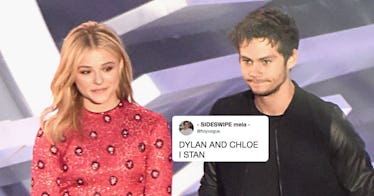 Chloe Grace Moretz May Be Moving On From Brooklyn Beckham With This Teen Heartthrob
Michael Buckner/Getty Images
It's a pretty bad news day for anyone still holding out hope for a reconciliation between Chloë Grace Moretz and her ex-boyfriend Brooklyn Beckham. I mean, I'm barely over the fact that the son of Posh and Becks has been seen out and about with YouTuber Lexy Panterra, after recently dating model Lexi Wood (um, what's with girls named Lexi/y, B?) and now I'm hearing that Moretz may be moving on too. Are Chloe Grace Moretz and Dylan O'Brien dating? Because, like, way to crush my spirit, guys! Elite Daily reached out to Moretz and O'Brien's teams for comment on the dating rumors, but did not hear back by the time of publication.
According to The Blast, The 5th Wave actress was spotted with the former "Teen Wolf" star on Tuesday, August 7. There's even a video of the two of them making a fast getaway from The Nice Guy nightclub together in the same car, and you have to go watch this clip of their departure, because it's so sneaky and perfectly orchestrated that I am seriously living for the whole damn thing.
OK, so here's what happened. First, Moretz split from the club and entered a waiting car. "Just you?" the driver asked, about to shut the door. But then a second later, O'Brien exited the same club with some random blonde girl in a lime green blazer. The two walked together for a hot sec as a bunch of photogs snapped pics, and then the actor quickly pivoted and ducked in to join Moretz in the back seat.
Pretty sneaky, sis!
Afterward, the pair reportedly hit up popular Hollywood hotspot Beauty & Essex, where they were photographed walking in. So how did these two get together? And what the hell happened to O'Brien's longtime girlfriend, Girlboss' Britt Robertson? Your guess is as good as mine — though there is a little bit of history between O'Brien and Moretz that may help clear up some of this mystery. And yes, that totally rhymed and I didn't even do it on purpose.
Anyhoo, wayyyyy back in 2011, O'Brien admitted to having a crush on the young blonde star. "I wanna give a special shout out to Chloe Moretz because she is the most badass little chick that I've ever seen," he told Hollywire. "What she did in Kick-Ass is amazing and I have a crush on her."
Well, that's pretty cute, right? Only not. Because Moretz was just 14 at the time. Whoops. The inevitable backlash rolled in, but O'Brien eventually cleared things up in another Hollywire interview six months later. "I recently Wikipedia-ed Chloê Moretz and I saw how old she was," he said. "So I would like to take it back and retract and say that I think Chloe is a very cute and talented girl. I don't have a crush on her."
So that settles that. Or does it? Because if these two are actually hooking up now that Moretz is 21 and all grown up, did he, like, will this relationship with Moretz into existence? Twitter definitely has some thoughts.
I don't know about you guys, but I seriously don't know what to think about all this. Cuz on the one hand, I totally ship both Brooklyn and Chloë and Dylan and Britt as couples. But on the other... this whole good-things-come-to-those-who-wait plot twist is actually kinda cute. Of course, there's always the chance O'Brien and Moretz are just friends who happened to, like, bump into each other in the club and decided to split an Uber Pool.
Can someone figure this all out and get back to me? K thx bi.