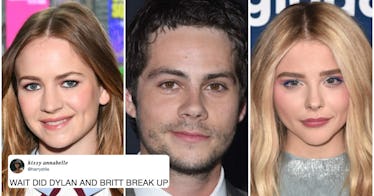 Twitter Is Convinced Dylan O'Brien & Britt Robertson Split For This Confusing Reason
Dia Dipasupil//Vivien Killilea/Alberto E. Rodriguez/Getty Images Entertainment/Getty Images
Hold the phone. HOLD. THE. PHONE. There may be a love... triangle? Rectangle? Quadrilateral?... going on, and I'm so damn confused. You may know Chloë Grace Moretz and Brooklyn Beckham split a few months back. It was a pretty tragic time, because I personally thought they made the cutest couple. But just a few days ago, we saw Moretz stepping out with former Teen Wolf star Dylan O'Brien. Cute! Except for that one small, important detail that he has been dating actress Britt Robertson for nearly six years. Which inevitably leads us to the question: Did Dylan O'Brien and Britt Robertson break up? Honestly, what is even going on right now? Elite Daily reached out to Moretz, O'Brien, and Robertson's teams for comment on the dating rumors, but did not hear back by the time of publication.
The reason why rumors are spreading like wildfire that O'Brien and Robertson have broken up completely has seemingly everything to do with newly single Moretz.
In a video clip uploaded to The Blast, Moretz was spotted leaving The Nice Guy nightclub with O'Brien on Tuesday, August 7. While the pair didn't exit the club at the same time, Moretz had her car wait for O'Brien to leave the club before the driver shut the door and drove away with the pair together in the back seat, which looks just a tad suspish.
Afterward, the pair reportedly visited the Beauty & Essex in Hollywood, where they were photographed walking in together.
This is all well and good, except for that pesky little fact of knowing that Dylan O'Brien hasn't officially announced a breakup with longtime girlfriend Britt Robertson.
Now look, could Chloë Grace Moretz and Dylan O'Brien just be friends and nothing more? Absolutely. But we haven't heard any confirmation from O'Brien (nor Robertson) that they're still together to help put our minds at ease. And based on their history of being super private about their relationship, it's not likely we'll get that confirmation any time soon.
After seeing the footage of O'Brien and Moretz's recent outing, many fans are taking to Twitter to be like, "Wait, what?", because honestly, this whole situation is a tad confusing:
Needless to say, people are a little lost about the whole thing, because there is just so much going on with it. Is Dylan with Chloë? Is Dylan with Britt? Did Dylan break up with Britt? Did Dylan break up with Britt for Chloë?
Speculation that O'Brien and Robertson called it quits did pop up back in January, but O'Brien put those rumors to bed during an interview with HeyUGuys after joking that he was thankful that his girlfriend stayed with him while having to grow facial hair for the film American Assassin.
"Sometimes I look back and I'm like, 'Man, I actually lived with that for more than half a year of my life. And my girlfriend did not leave me.' It's great," he said, which basically laid to rest any thoughts that the pair split.
But you guys, that was months ago, and a lot can change in a short period of time. So couple that with the fact that he was seen out and about with Moretz (who he admitted to having a crush on years ago), and it looks like we've got ourselves quite a romantic mystery.