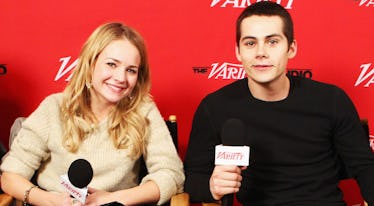 Dylan O'Brien & Britt Robertson's Relationship Timeline Will Make You Root For Them
Alexandra Wyman/Getty Images
If you become as fully invested in on-screen couples as I do, you've probably dreamt about your favorites turning into couples IRL. Fortunately for us, sometimes they do! Thanks to the rom-coms that fill our Netflix watch-lists, we have plenty of celeb relationships to analyze from start to finish, starting with the on-screen turned off-screen romance of Dylan O'Brien and Britt Robertson. They met on the set of their 2012 romantic comedy, The First Time, and have been together ever since. To learn about how this adorable couple came to be, I've put together Dylan O'Brien and Britt Robertson's relationship timeline. You're welcome.
The First Time is your typical high school love story, where a couple falls in love over the span of one weekend. Totally happens, right? O'Brien's character, Dave, is pining over the popular girl, and Robertson's Aubrey has an older boyfriend who doesn't quite understand her. When the two meet by chance at a party, they immediately begin to fall for each other. Ah, if only it was that simple.
Regardless of the somewhat cheesy storyline (which I honestly have no problem with), an adorable, real-life couple came out of The First Time. Let's take a closer look at Dylan O'Brien and Britt Robertson's relationship.