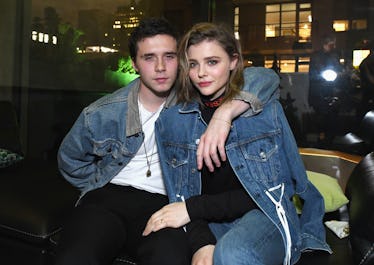 Chloë Grace Moretz Just Shaded Brooklyn Beckham So Hard For The Most Relatable Reason
Slaven Vlasic/Getty Images Entertainment/Getty Images
Chloë Grace Moretz and Brooklyn Beckham seem to be done for good after dating on and off for the last three years. The Miseducation of Cameron Post star recently discussed her former relationship in an interview with The Sunday Times, and by "discussed her former relationship" I mean she very clearly stated that she wasn't going to talk about it. One thing she did say, however, seems like it could've been directed at her ex's actions post-breakup. Chloë Grace Moretz shaded Brooklyn Beckham just a bit when she was asked if she wants anything about Beckham on the record from their interview. The shade was seemingly directed at the reports that Beckham was seen making out with a Playboy model shortly after they broke up, but before we get to that, the context she gave in this interview about celebrity relationships is super important.
She started off by saying that no matter who you're dating, dating while famous (including the breakups) is going to be hard. "Breakups are hard across the board. But when every verified account on Twitter posts something about me, I get tagged," she said, adding, "And every major publication is verified. So anytime they post something about a certain relationship, it pops up on my phone, which is how I find out about 90 percent of things." Oof. That sounds rough.
Moretz went on to say what so many celebrities have maintained in the past: dating someone who isn't famous rarely works out. "It's nearly impossible to date someone who has no real basis in this industry, because it's a shocking industry," she said. "There are a lot of things that happen that are hard to explain."
Then the actress started talking about the struggles of wanting to be able to do/post/say/reveal anything you want about your relationships, but the reality is that the second you do that, your privacy goes out the window. This was probably a frequent struggle for her and Beckham.
She said,
You can't post that photo unless you want people to talk about it. And if you do, you can't complain. If you are dating someone, that makes their photo more lucrative, it ups the ante and they hunt you down to excessive points.
When asked what she's learned from past relationships, her answer was actually kind of sad. Moretz revealed that the most important lesson she learned was to be more secretive. "To keep things quiet," she said, adding,
It's been a very big learning curve, and that was hard. I had a lot of moments when I was, like, 'Why can't I just say this? Why can't I be with this person in the street and not get photographed?' And there's no real answer to that other than you just can't. That's my life, but hopefully I'm going to try and control every ounce of it that gets out.
Finally, she was asked if there was anything she wanted to say specifically about her relationship and breakup with Brooklyn Beckham. "I want nothing to be said," she started off with, clearly not messing around. She did change her tune a bit though and added, "I'm not a big fan of PDAs in general. I personally don't want to see people posted all over my phone making out."
Yikes. This could be a reference to the reports that Beckham was reportedly seen making out with Playboy model Lexi Wood not long after their breakup in April.
Moretz and Beckham weren't that shy about small PDAs during their relationship:
But given what Moretz said about being famous while dating, it's no surprise that she doesn't want to show PDA anymore. They both used to post sweet photos of each other during their three-year relationship.
Like this photo Moretz posted of Beckham on Valentine's Day.
Moretz is now rumored to be dating Dylan O'Brien, but just like she said, when you're famous and dating someone, every picture you post makes your relationship more vulnerable. Plus, O'Brien is also notoriously private about his relationships (which is why we don't know what the status of his long-term relationship with Britt Robertson is at the moment). Basically, it doesn't sound like we'll be seeing any posts about this rumored relationship any time soon, if at all.