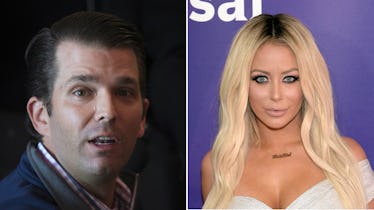 Aubrey O'Day Admitted She Had A Crush On Trump Jr. On 'Apprentice' & Yup, There's Video
Drew Angerer/Getty Images News/Getty Images // Jason Kempin/Getty Images Entertainment/Getty Images
In what's been a week of reports around President Donald Trump's oldest son and his love life, there's one more fold to the story. This video of Aubrey O'Day and Donald Trump Jr. on Celebrity Apprentice, brought to light on Friday, is interesting, to say the least. The old clip provides some insight on an alleged affair between the Danity Kane singer and the president's eldest son, reported earlier this week. Elite Daily reached out to representatives of O'Day and Trump Jr. on Monday but had not received a response at time of publication.
In the video, a confessional-style clip from the Celebrity Apprentice that aired in March 2012, O'Day references how she felt while pitching her ideas about a product to the younger Trump. Those feelings included, apparently, feelings towards him.
"Don Jr. makes me nervous because his opinion means a lot," said O'Day in the clip. "He's done this for a very long time, and also, I have a very big crush on him, so I don't want to disappoint him."
During the actual meeting with Trump Jr., the video clip shows, O'Day was pitching an advertising strategy for a Crystal Delight product, centering around the concept of Adam and Eve, forbidden fruit, and desires.
The revelation that O'Day had a crush on Trump Jr. adds to a whirlwind week of drama around the duo. On March 19, Page Six reported that O'Day and Trump Jr. had an affair in 2011, while Trump Jr. was married.
You can see the video here:
At the time of the alleged affair, Trump Jr. was serving as a senior adviser to the show, while O'Day was a contestant on the 2011 season. Per Page Six, the senior Trump reportedly told his son to "knock it off" and the family pressured him to keep his marriage intact. Trump Jr.'s wife, Vanessa, was pregnant at the time.
According to People, Mrs. Trump became aware of the alleged affair when she saw "sexy" texts from O'Day pop up on her husband's phone while he was in the shower in early 2012. Around this time, Us Weekly reports, Mrs. Trump called O'Day to confront her about the alleged affair. Sources claimed to the outlet that the alleged affair abruptly ended after she saw the texts.
Sources claimed to Page Six that it was Trump Jr. who pursued O'Day. "It was him who chased her. He told her that his marriage was already in the process of dissolving. I think his marriage to Vanessa was over long before Aubrey came along," a source claimed.
The news of the alleged affair prompted speculation that some of O'Day's songs might have been about him; specifically, "Somebody That I Used To Know," and "DJT."
An insider source claimed to Us Weekly that both parties seemed serious about the alleged affair. "He told her it was over with his wife, that they were separated and he didn't love her — all of that stuff ... Aubrey fell for him hard. ... She thought they were going to be together for real." Trump Jr. and Vanessa married in 2005 and have five children together.
The drama surrounding the alleged relationship comes after reports from March 15, also by Page Six, that Mrs. Trump had filed for divorce. Speculations arose that reported affair might have contributed to the eventual breakup.
"After 12 years of marriage, we have decided to go our separate ways. We will always have tremendous respect for each other and our families. We have five beautiful children together and they remain our top priority. We ask for your privacy during this time," the couple said in a statement on March 15.
And that's not even all of the drama around Junior's interactions with women. The same day as their divorce news surfaced, former model Melissa Stetten shared a Twitter thread highlighting questionable direct messages and tweets he'd sent her — also in 2011.
"Surprised his marriage didn't work out since he was sending me DMs a month after his wife gave birth," wrote Stetten in her March 15 thread.A spokeswoman for Trump Jr. provided People a screenshot that showed the continued thread of the DM between the two, which the spokeswoman said shows the exchange was understood to be a joke.
Whether there actually was an affair between O'Day and Trump Jr. is still all hearsay, but the video doesn't lie — O'Day had feelings for him at one point in time.