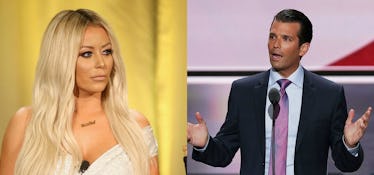 People Think This Vicious Aubrey O'Day Music Video Is About Donald Trump Jr.
Frederick M. Brown/Alex Wong/Getty Images
The rapidly developing narrative surrounding Donald Trump Jr.'s divorce from his wife — and an alleged affair with singer Aubrey O'Day — continues to unfold. On Thursday, March 15, Vanessa Trump reportedly filed for divorce in Manhattan Supreme Court, and days later the New York Post published a report claiming that Trump Jr. cheated on Vanessa with O'Day. Now, two days later, TMZ has published previous unreleased footage of Aubrey O'Day's "Somebody That I Used To Know" video, in which she performs topless with words like "cheater" and "liar" written all over her body.
The video was shot in 2012 — a year after Trump Jr.'s alleged affair with the Danity Kane star — but was never completed because O'Day did not pay for the complete production, TMZ reports. Elite Daily reached out to O'Day and Trump Jr.'s representatives for comment on the reports of an affair, but did not hear back. O'Day's "Somebody That I Used To Know" remix — a remake of the hit song of the same name by Gotye — is one of two songs O'Day reportedly wrote about her alleged affair with Trump Jr. The second is a song titles "DJT."
In her version of "Somebody That I Used To Know," O'Day sings lyrics that seemingly allude to an affair with a married man. At what one, she sings, "You said that was the reason for your pain, but you were scared to ruin your family's name. Your wife's the only one glad we are over."
Here's the previously unreleased footage of her shooting a video for the song.
Vanessa Trump and Donald Trump Jr.'s separation was announced via joint statement that was given to The New York Post, after the paper reported that Vanessa had filed for divorce.
"After 12 years of marriage, we have decided to go our separate ways," the statement reads. "We will always have tremendous respect for each other and our families. We have five beautiful children together and they remain our top priority. We ask for your privacy during this time."
The pair married in 2005, and have five children together.
Days after the separation was announced, The Post reported on the alleged affair between Trump Jr. and O'Day, with a report claiming the extramarital relationship took place when the singer was a contestant on NBC's Celebrity Apprentice. The Post's report also claims that the affair occurred around the time that Vanessa was pregnant with the couple's third child, and that Donald Trump Jr. told his wife he planned to leave her for O'Day.
The Post quoted one source as saying, "It was him who chased her [O'Day]. He told her that his marriage was already in the process of dissolving."
Us Weekly also reported details about an alleged affair between Trump Jr. and O'Day, with one report claiming that Vanessa called the singer directly to confront her.
"When it started, he and Aubrey were very serious all of a sudden," Us Weekly quoted an "insider" source as saying. "He told her it was over with his wife, that they were separated and he didn't love her — all of that stuff ... Aubrey fell for him hard," adds the insider. "She thought they were going to be together for real."
Meanwhile, People reported that Trump Jr.'s separation from his wife comes after a period during which the couple grew distance. "Even before all this Trump presidency stuff started, they weren't good and their marriage was strained," the magazine quoted a source as saying.
Aubrey O'Day first gained fame after appearing as a contestant on Diddy's reality show, Making A Band on MTV. Now, her music is at the center of a wave of reports surrounding an alleged affair between her and the president's eldest son.