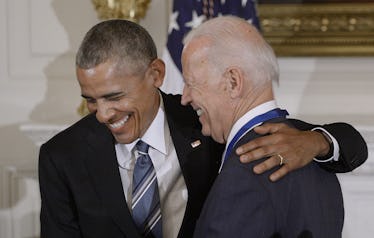 Barack Obama Welcomed Joe Biden Back To Instagram With This Fan-Favorite Selfie
Pool/Getty Images News/Getty Images
In the dark political climate that is 2018, Barack Obama and Joe Biden's everlasting bromance never fails to make me feel a little more hopeful about the future. This selfie of Barack Obama and Joe Biden, shared in honor of the VP's return to Instagram on Saturday, Sept. 8, is no different. The fan-favorite photo is pretty much guaranteed to bring a smile to your face.
On Saturday, President Barack Obama made a rare exception to his no selfies policy by sharing a photo taken with his longtime running mate and right hand partner: Joe Biden. ICYMI, the former Vice President has been MIA from Instagram since Dec. 30 2016, when he took to @VP44 to share a photo of himself boarding a C-17 plane. That finally changed on Thursday, Sept. 6 when he created a new Instagram account (@JoeBiden) and shared his first post. None other than longtime BFF President Obama took note, taking to his own account to welcome Biden back to the social media platform.
"My brother and friend @JoeBiden is back on Instagram," he wrote alongside a photo of the friends cheesing for the camera. "Welcome back, Joe—you'll always be one of the rare exceptions to my no-selfies rule."
If the chummy shot looks familiar, it's because it's a re-share from another now iconic BROTUS moment: When the pair stepped out together for lunch on Monday, July 30 at the Dog Tag Bakery in Washington D.C. and were the epitome of #FriendshipGoals.
Biden shared the photo on Aug. 4 in honor of President Obama's birthday, and his genuine caption was enough to move everyone to tears.
"Our lunches together were a highlight of every week at the White House," he wrote. "Last week's trip to @DogTagBakery was no different. Happy birthday to my brother, my friend, @BarackObama."
The re-post pays homage to that special moment as well as their meme-inspiring friendship, and I'm loving President Obama's nod to Biden's original "my brother, my friend" reference in the welcome back message. Now I'm just crossing my fingers that the former POTUS finds many more opportunities to bend his no-selfies rule.
President Obama wasn't the only one out of Biden's 624,000 followers and counting to take note. Former White House photographer Pete Souza (who memorably penned an epic birthday message for President Obama that simultaneously managed to shade President Trump) also got on board the welcome train.
"Great to see @JoeBiden back on Instagram!" Souza wrote alongside a candid of the former running mates sharing a laugh. "P.S. My 92-year-old mom said if you ever run for office again, she's going to volunteer for your campaign. She's not joking!"
Biden, whose late son Beau Biden served in the U.S. Army, started off his Instagram journey with a nod to the servicemen who've come back from war with Post Traumatic Stress Disorder and other mental issues.
"Over the course of the past three months, a team of wounded veterans from the United States and the United Kingdom have been walking across the country together -- from coast to coast," he wrote on Saturday. "They are raising awareness for the tens of thousands of warriors who return home from battle with post-traumatic stress or traumatic brain injuries. We owe them. Today, Jill and I finished the walk with them in New York City. Their courage knows no bounds, and their bond and service transcends national borders."
He concluded, "I'm proud to know them, and grateful to have the chance to once again share my days with you here on @instagram. It's good to be back." It's good to have you back, Joe.