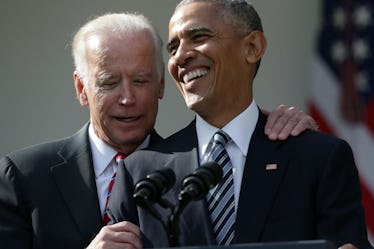 Joe Biden's Sweet Birthday Post To Barack Obama Will Give You All The Feels
Alex Wong/Getty Images News/Getty Images
Happy Birthday, President Barack Obama! While it's certainly a celebratory moment, you might wanna break out the tissues, too, because there are tons of birthday tributes floating around in honor of his big day that'll have you in your feelings. Joe Biden's birthday wish to Barack Obama, specifically, might be the sweetest one yet — and it is a perfect reminder that their everlasting bromance is still going strong. (So seriously, go grab a tissue before you read on.)
Biden took to Twitter on Saturday, Aug. 4 to share a photo of himself and Obama. In the must-see selfie, the two are laughing and enjoying each other's company outside of Dog Tag Bakery in Washington D.C., where they grabbed lunch earlier in the week. Biden also included a sweet message to Obama in the tweet. In the caption, Biden briefly reflected on their time together in the White House and their relationship in the present day. Get ready for the tears, because then he called Obama his "brother" and his "friend" (*swoons*). He captioned the post,
Our lunches together were a highlight of every week at the White House. Last week's trip to [Dog Tag Bakery] was no different. Happy birthday to my brother, my friend, @BarackObama.
BROTUS forever! These two were so close during their tenure in the White House — so much that their relationship generated countless memes and hilarious #BFFgoals tweets, so it's great to see they still maintain their relationship.
Just days ago, on July 30, the duo was spotted getting lunch together at Dog Tag Bakery in Georgetown, which is a nonprofit organization that helps support disabled veterans, military spouses, and caregivers. The moment was captured and shared to social media. Fans couldn't stop gushing over BROTUS and the outing itself, which truly highlighted their unique friendship.
In the clip, Obama can be heard asking Biden for food recommendations, and then says, "I'll take one of those, too," if the item sounds delicious enough. Biden then chimes in, telling the cashier, "Get the boss one of those too," with his money in his hand, as if he's ready to check out. But the two were too fascinated by all the food options on display at the register to move on and (hilariously) continued ogling over the items. Eventually, they both ordered ham and gruyère sandwiches, while Obama chose a side salad for himself, and Biden selected a slice of mint basil blueberry cake, according to CNN.
Many people took to Twitter to respond to the moment, crying and pleading for the two to "come back" to the White House.
IDK about you, but these moments are giving me all the nostalgic feels and I'm here for it. I mean, Obama and Biden just fit, and they prove it more and more with every exchange. Remember when Obama was right by his former vice president's side when his son, Beau Biden, was sick and battling cancer? Or how about when the two commemorated their relationship with friendship bracelets on Obama's 55th birthday back in 2016? I could go on and on with examples of how these two are #friendshipgoals.
Whether it's their throwback moments or new exchanges like this birthday wish, these two continue to prove that they have so many more to look forward to together. And I look forward to the birthday selfies they'll post along the way!