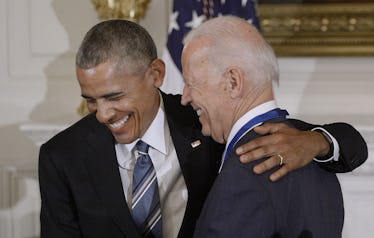 Barack Obama & Joe Biden Reunited For Lunch Because This Bromance Is Eternal
Pool/Getty Images News/Getty Images
Barack Obama accomplished a lot of great things during his tenure as president, but I think we all can agree that one of the best things that came from his presidency is his bromance with former Vice President Joe Biden. Their golfing trips, inside jokes, selfies... they just truly have the kind of relationship that makes any duo label them #goals. Judging from this video of Barack Obama and Joe Biden getting lunch at a bakery in Washington D.C., their special bond hasn't changed a bit since they left the White House, either.
According to The Hill, the two stepped out on Monday, July 30 for a snack at Dog Tag Bakery in Georgetown, which is a nonprofit organization that helps support disabled veterans, military spouses and caregivers. In a clip shared to Twitter of the moment, Obama, who once sought Biden for political advice, can be heard asking his former vice president for food recommendations.
"Hold on a sec, what did you get here?" Obama asks, to which Biden replies, "I've got one of these, what are they called, ham and cheese." Biden holds up his plate to the former president's face, who then responds, "That looks pretty good. I think I'e gotta have one of those too."
"Get the boss one of those too," Biden tells an employee, holding cash in his hands as if he's all set to check out. But they're still too fascinated with all the food options on display at the register, and continue to add snacks to their order in true BFF behavior.
FYI: I'll be watching this on repeat forever once I'm done sharing this story with you guys, so if anyone needs me, you know where I'll be.
Some people were equally excited and shared emotional messages about BROTUS on Twitter.
The Dog Tag Bakery also gave Obama and Biden a shoutout, sharing a picture of the two men at the counter in the store along with the caption:
Look who stopped by @DogTagBakery for lunch today! Thank you @BarackObama and @JoeBiden for supporting our mission of empowering veterans with service-connected disabilities, military spouses, and military caregivers! #BakingADifference #veterans #milspouses #caregivers
Dog Tag CEO Meghan Ogilvie later told CNN that the two had ordered ham and gruyère sandwiches. Obama also grabbed a side salad for himself, while Biden chose a slice of mint basil blueberry cake (which is likely what they were ogling over in the clip), because there's really no greater way to bond than over good food.
But Obama and Biden have seemingly always been there for each other since claiming the White House in 2008, despite their political obligations. They were, like, going out for cheeseburgers almost all the time during their tenure. They got friendship bracelets to prove their ride-or-die-ness with each other back in 2016, and on a more serious note, Obama had even offered Biden financial support when his son, Beau Biden, was battling cancer that same year. Though it's been nearly two years since the men left office, it's refreshing to see that nothing's changed.
Best of luck to this bromance. May it live on forever.