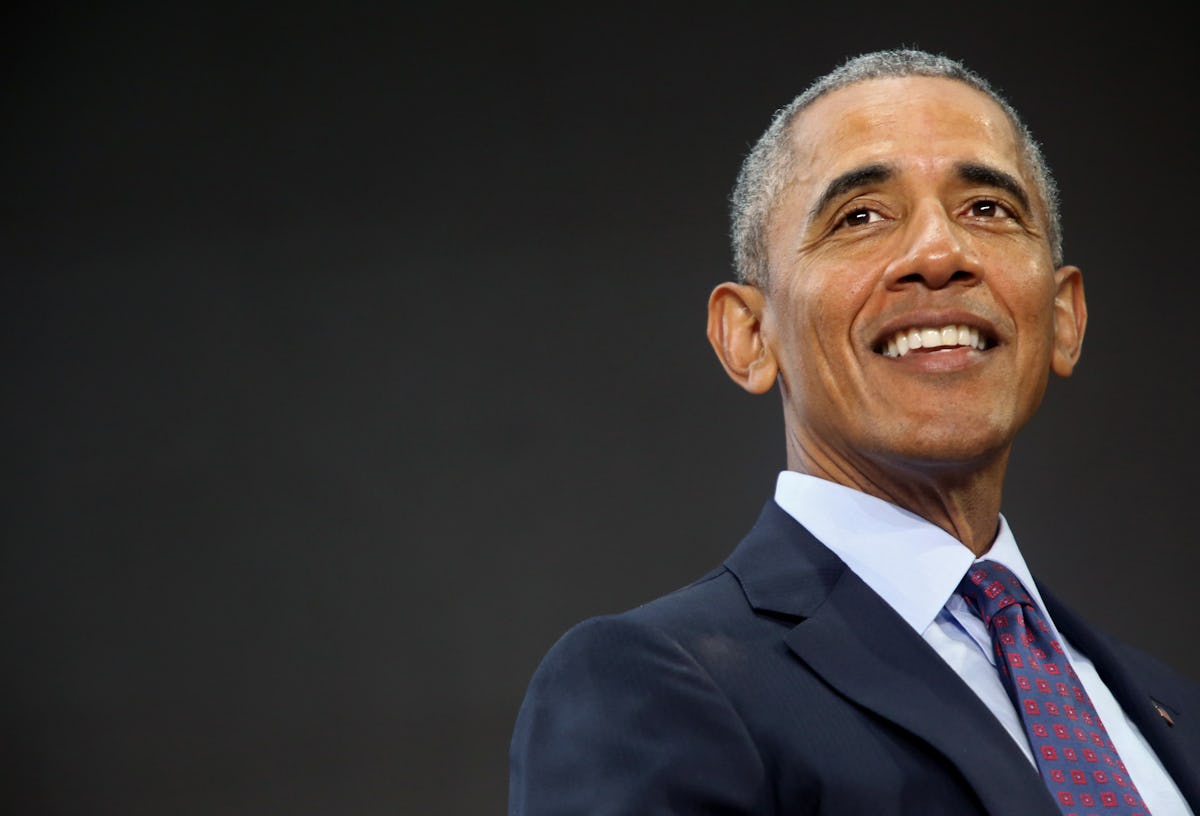 This Birthday Post For Barack Obama Totally Shades Trump In The Best Way
Yana Paskova/Getty Images News/Getty Images
As President Barack Obama rings in his 57th birthday on Aug. 4, a slew of friends and fans want to wish him well on social media. However, commemorating the one-time POTUS' time in the White House wouldn't be complete without a few digs to current President Donald Trump, especially after the president shared a controversial Tweet criticizing LeBron James' intelligence one night earlier. Needless to say, people aren't happy about it, and I wasn't surprised when former White House photographer Pete Souza wished Barack Obama happy birthday with a post that shaded Trump.
Souza wrote in an Instagram post on his official page on Saturday, "Thought this throwback photograph from President Obama's 49th birthday was an appropriate one to wish him a happy birthday today." The accompanying image is a throwback pic of Obama playing basketball with LeBron James in 2010. In the pic, James donned a "POTUS" jersey and looked like he was having the time of his life. Souza continued, "And now he and LeBron have something in common—being the recipient of racist and bullying tweets from the current president. Oh, and both of them like Mike. #throwshadethenvote." Burn.
Elite Daily reached out to the White House for a comment on Souza's claim of "racist and bullying tweets" from President Trump, but hasn't heard back at the time of publication.
The shade to Trump comes after he insulted James on Twitter on Friday evening. It's safe to say that Souza is not a fan of the current POTUS's conduct on Twitter, and he rose to James' defense when President Trump took to Twitter on Aug. 3 to criticize the athlete.
The uproar started after the basketball superstar made an appearance in a CNN interview with Don Lemon on Aug. 3. James commented on President Trump's divisive policies in sports while discussing his new school for at-risk kids in Akron, Ohio. President Trump later took to Twitter to attack the basketball player's intelligence along with a dig that seemed to reference the president's affinity for basketball legend Michael Jordan.
"Lebron James was just interviewed by the dumbest man on television, Don Lemon," he wrote. "He made Lebron look smart, which isn't easy to do. I like Mike!" Ouch.
Unsurprisingly, the Twitterverse was in an uproar, and they came for President Trump hard.
And while President Trump says he "likes Mike," the feeling might not go both ways. Michael Jordan doesn't seem to be the biggest fan of Trump, based on a statement he made referencing the president's reaction to black athletes kneeling in protest. Back in May, President Trump said that not only should athletes that kneel during the National Anthem not be playing, but they should also not be "in the country."
According to the Charlotte Observer, Jordan commented on the matter in a statement that read,
One of the fundamental rights this country is founded on was freedom of speech, and we have a long tradition of nonviolent, peaceful protest. Those who exercise the right to peacefully express themselves should not be demonized or ostracized. At a time of increasing divisiveness and hate in this country, we should be looking for ways to work together and support each other and not create more division.
Meanwhile, in case you're wondering what President Obama and FLOTUS Michelle Obama thought about LeBron James' interview:
Souza is just serving all the comebacks to President Trump, as his book, Shade: A Tale of Two Presidents, reportedly has a publish date of October 16, per The Washington Post. Meanwhile, if you head over to his Instagram account with almost 2 million followers, the digs keep coming.
Souza often compares the presidencies of Obama and Trump in his posts.
The lesson of the day for President Trump? Don't come for King James.